written by: Will under News Comments: Comments Off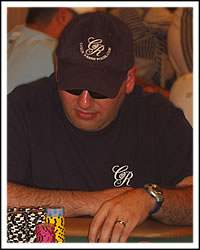 Vadim Shlez of Brooklyn, New York added an enormous win to live tournament resume late last week when he was crowned the winner of the Main Event at the Borgata Winter Poker Open. The event took place at the Borgata Hotel and Casino in Atlantic City.
A total of 718 players registered for the event, and buy-ins of $3,500 each created a $2,369,400 prize pool. Shlez, originally from the Ukraine, earned the top prize of $533,210 for his win. The final table diminished until Shlez faced off against LJ Sande of Connecticut heads up.
In an interview with the Borgata Blog, Shlez that he was "kind of speechless" following the event, and that the win hadn't "sunk in yet."

Shlez's chip count was in serious trouble towards the later stages of final table play, and at one point he only had enough chips to pay for 11 big blinds. Shlez regained his momentum when he received pocket kings and profited from a poorly timed shove from Trevor Savage, who ended up finishing third.
Although Shlez couldn't exactly articulate just how he came back, he mentioned that he "never lost confidence in [his] decisions or [himself]." Shlez's statement echoes the sentiments of many major tournament winners who cite confidence in the face of daunting adversity as a main reason for winning.
The final table was packed with high stakes poker middleweights; Bobby Suer, the 2nd place finisher of the WPT Southern Poker Championship in 2009, was the most notable player at the table. Suer finished fourth to win $156,286.
The top 10 money finishes for the Borgata Winter Open Main Event are listed below:
10: Tom Hu – $28,729
9: Allan Vrooman – $43,669
8: Osagyefo Greene – $63,204
7: Steve Ryan – $82,740
6: Patrick Carney – $103,425
5: Gil Sacks – $126,407
4: Bobby Suer – $156,286
3: Trevor Savage – $189,611
2: LJ Sande – $310,273
1: Vadim Shlez – $533,210