written by: Jennifer under Poker Comments: Comments Off
When the PokerStars.net North American Poker Tour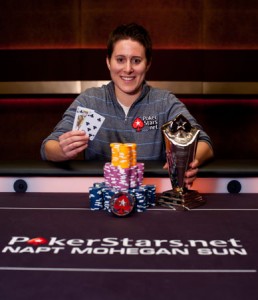 landed in Uncasville, Connecticut for the Mohegan Sun tournament on April 9, hopes were high for a good turnout. But with a field that only totaled 387, as compared to last year's 716 players, it had to be a little disappointing. Regardless, the $5K buy-in Main Event still had a substantial $1,736,330 prize pool, enough to pay 56 players and give the winner $450K. Without the comparison, those numbers stood well on their own.
Day 1 started with those 387 players but ended with only 230. And Day 2 thinned the field even more, taking it down to only 74 by the time action stopped for the evening. Some who did not make it that far were players like Jonathan Duhamel, Vanessa Rousso, Cliff Josephy, Jeff Madsen, Carlos Mortensen, Joe Cada, and John D'Agostino. But one of those who did make it was defending NAPT Mohegan Sun champion Vanessa Selbst, who ended fifth in chips. Aaron Overton was the chip leader by a long shot with 598,700, as no other player even hit the 400K mark.
Day 3 started with 74 players and a quick race to the money bubble, and it was Nick Binger who was ousted by Adam Junglen in 57th place. That left room for the money to start being distributed, and some who cashed were Bernard Lee, Lee Markholt, Matt Matros, Victor Ramdin, and Junglen. When the dust settled, only 24 players remained with Vanessa Selbst holding 1,406,000 chips and the lead by a wide margin.
Day 4 saw names like Eric Froehlich, Olivier Busquet, and Nenad Medic hit the rail, and Corey Hochman was the final table bubble player, walking away with $26K for ninth place. That left 8 players for the April 13 final table, with Tyler Kenney as the chip leader with 3,021,000, Selbst in second, and Overton as the short stack with 373K.
Action began with Steve O' Dwyer as the first to go, courtesy of Vincent Rubianes. Selbst stepped up to eliminate Overton in seventh and Thomas Hoglund took out Joe Tehan. Dan Shak doubled through Selbst but she then doubled through Rubianes, and the latter was then busted by Kenney. Kenney then took out Hoglund in fourth, and Shak eliminated Kenney in third. That left Shak (8.65 million) versus Selbst (3.025 million) to battle for the title after a dinner break. The two battled, each doubled up and took the lead, but it was Selbst who had the momentum. The final hand came when the two saw a flop of Ks-7d-3s; Shak bet, Selbst check-raised, Shak reraised all-in with Jh-7h, and Selbst insta-called with Kc-7c. The 5h turn and 2h river ended it, and Shak took second place.
Vanessa Selbst took her second consecutive NAPT Mohegan Sun title, an amazing feat in today's poker world.
1st place: Vanessa Selbst ($450,000)
2nd place: Dan Shak ($254,000)
3rd place: Tyler Kenney ($170,000)
4th place: Thomas Huglund, Jr. ($120,000)
5th place: Vincent Rubianes ($90,000)
6th place: Joe Tehan ($70,000)
7th place: Aaron Overton ($50,000)
8th place: Steve O'Dwyer ($32,230)
Information courtesy of PokerStars blog and photo credit to © Joe Giron.