written by: James under News Comments: Comments Off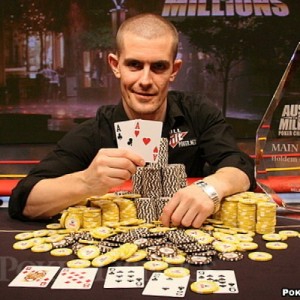 Yesterday night, Gus Hansen showed all the doubters why the original $3.6 million in losses he had suffered during 2010 would not follow him into 2011. Facing off against a familiar rival at the high stakes tables of Full Tilt Poker, Hansen secured another huge win – to the tune of $447,000. Unlike some previous meetings, the play between Hansen and Urindanger went Hansen's way and Urindanger limped away from the PL Omaha tables with a serious dent in his poker bankroll. At the beginning of October, Hansen was dealing with a devastating $3.3 million deficit on the year. While he still has a bit of work to do in the next two months, Hansen looks to start November with about $2.2 million in losses for 2010.
Hansen and Urindanger played almost 2,000 hands at the $500/$1,000 and $200/$400 tables at Full Tilt Poker. By far, the biggest win for Hansen was a brilliantly played full house on the turn that gave him an $80,000 pot from Urindanger. On the flop, Hansen hit two pairs with Sevens and Eights. The turn brought another Seven to give him the best hand. Urindanger obviously thought he had Hansen beat with a river Queen as he came about $5,000 short of an all in raise. Hansen also had a shot at pulling an Ace high flush out of the river – but he didn't need it.
Urindanger was quick to strike back with his own slow play of pocket Aces and a King/Nine combo. After no pre-flop action, the flop came with a pair of Deuces and a Queen (two spades on the board). Urindanger's check was met with a weak $2,000.00 bet from Hansen – which Urindanger called. The turn came with an Ace and Urindanger again checked. However, Hansen's $6,000 bet was met with a raise to $13,400 from Urindanger that Hansen called. The river came with a Four of Hearts and a $23,000 bet from Urindanger – which Hansen called to be mucked by a Full House, Aces over Twos. This was also a monster $80,000 pot.
Before you start feeling sorry for Urindanger, the professional online poker player has yet to drop to the loser's column this year and is still showing a profit of more than $600,000 for the year.
While Hansen was the unchallenged winner last night at Full Tilt Poker, other players posted some pretty impressive wins at the high stakes tables as well.