written by: Jennifer under Poker Comments: Comments Off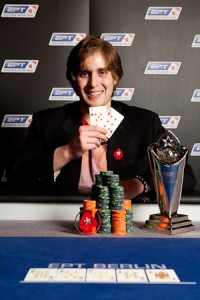 The European Poker Tour returned to Berlin on April 5 for one of the more popular stops of the season, and a total of 773 players were there for the action, creating a prize pool of €3,865,000.
Day 2 started with 353 players and whittled its way down to the money bubble at the end of the day. Along the way, there were numerous eliminations (obv), two of them being the Day 1A and 1B chip leaders, as Cristian Dragomir and Sander Berndsen didn't survive the second day of action. Others who left early included Jeff Sarwer, Matt Affleck, Max Pescatori, Arnaud Mattern, Pieter de Korver, Marcin Horecki, and Sandra Naujoks. Ultimately, Fabrice Soulier led the pack of 120 remaining players with 1,079,400 chips.
Day 3 got underway and saw many players leave with cash, including Fatima Moreira de Melo, Sebastian Ruthenberg, Peter Eastgate, Thomas Bichon, Roberto Romanello, and George Danzer. With 24 players left, it was Daniel Pidun as the chip leader with 2,429,000 chips.
It was on Day 4 that the final table was made. Along the way, players like Henrique Pinho and Fabrice Soulier exited, the latter taking 11th place. And Daniel Pidun was the bubble player, taking home €45,000 for ninth. That left only eight players, with Ben Wilinofsky as the chip leader with 5.225 million, whereas Jonas Gutteck was on the short stack with 1.025 million. Well-knowns Martin Jacobsen and Team PokerStars Pro Joep van den Bijgaart were still in the running.
Final table action got started on April 10 with Gutteck taking his shot for a double-up but instead being eliminated by Max Heinzelmann. The second lowest chip stack of the day belonged to Bijgaart, and he exited in seventh, courtesy of Wilinofsky. Darren Kramer was then eliminated by Vadzim Kursevich, and Wilinofsky was back in action to take out Armin Mett in fifth. Jacobson was denied another title, this time by Heinzelmann with a 7.5 million-chip pot, leaving the former out in fourth. Another big hand found Wilinofsky ousting Kursevich. Wilinofsky held a 3-to-1 chip lead over Heinzelmann, and after the two took a dinner break, they returned to find Heinzelmann chipping up but Wilinofsky responded by taking another commanding lead. Finally, Heinzelmann check-raised all-in on a 8s-5c-3d flop with 9h-8d, and Wilinofsky called with 7d-6h. The 9s on the turn made Wilinofsky's hand, and the Jh on the river ended it, leaving the German with second place and Wilinofsky with the victory, trophy, bracelet, and €825,000.
1st place: Ben Wilinofsky (€825,000)
2nd place: Max Heinzelmann (€500,000)
3rd place: Vadzim Kursevich (€300,000)
4th place: Martin Jacobson (€230,000)
5th place: Armin Mette (€180,000)
6th place: Darren Kramer (€140,000)
7th place: Joep van den Bijgaart (€100,000)
8th place: Jonas Gutteck (€66,000)
Thanks to the PokerStars blog for live updates and Neil Stoddart for the photo.