written by: John under News Comments: Comments Off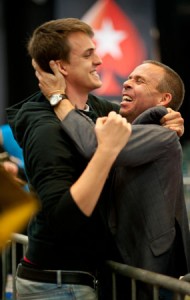 Before I get into the specifics of the story I have to admit that Canadian Will Molson has the greatest name/country combination in poker! Molson took down the PCA High-Roller poker tournament yesterday after a grueling three days of poker that saw the young pro weave his way through one of the toughest fields in poker history.
With a huge field of 158 players, first-place prize-money exceeded $1 million, making this the largest High-Roller tournament in poker history. Molson is no stranger to high-roller tournaments, and no stranger to having success in said tournaments: In 2009 Molson finished 2nd in this same tournament to Bertrand "ElkY" Grosspellier; in 2010 Molson once again was the bridesmaid in the PCA High-Roller tournament, this time finishing 2nd to William Reynolds; and now in 2011 Molson was able to better his previous placing by one spot and capture the crown.
Here is a look at the Top 10 finishers in the 2011 PCA $25k High-Roller tournament:

1.     1: William Molson –$1,072,850
2.     2: Leo Fernandez — $554,9253
3.     Max Lykov  – $369,490
4.     4: Erik Seidel — $295,960
5.     5: Govert Metaal — $240,470
6.     6: David "Bakes" Baker — $203,475
7.     7: Matt Marafioti — $166,480
8.     8: Jason Mercier — $129,480
9.     9: Shander de Vries — $110,985
10.  10: Brandon Stevens –$110,985
In addition to his PCA success Molson also has two other High-Roller final tables and cashes under his belt: One at the 2010 LA Poker Classic and one at the EPT London.