written by: Steve under News Comments: Comments Off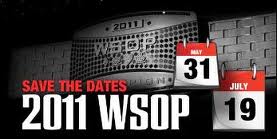 When Jonathan Duhamel finished off John Racener in the World Series of Poker Main Event last November there was only one question on everybody's mind: When does the 2011 WSOP begin? Well, it's finally here!
The 2011 WSOP will start with a flourish, as the two tournaments set to begin on Tuesday include the smallest buy-in and the second largest buy-in of the entire WSOP tournament series! So, you can expect a good mix of no-name amateurs as well as the most well-known poker players in the world to be in the Rio on Tuesday.
The 2011 WSOP will begin with two events on Tuesday, May 31, 2011. The first event is a WSOP mainstay, the $500 buy-in Casino Employees event –a non-bracelet event that rewards the dealers and floor staff for their hard-work throughout the year, although the Casino Employees tournament has been the lauching pad for a few notable players over the years like Bryan Devonshire, and more recently Omaha 8 specialist Thang Luu.
The higher-profile tournament that will begin on Tuesday is the $25,000 buy-in Heads-Up No Limit Holdem Championship. This is the first year that the Heads-Up Championship will be played as a $25,000 buy-in event, a number that should bring out the best and brightest in the poker world. The total field size is capped at 256 players, which if the tournament even hits 200 will result in a massive $5,000,000 prize-pool –my personal feeling is that the tournament will have 100-125 entrants.
For a complete 2011 WSOP schedule you can head on over to www.wsop.com