written by: Will under News Comments: Comments Off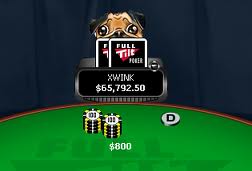 XWINK, a newly-identified high stakes online player who turned $4,000 into over $2 million in the past few days, finally crashed. The online poker community was expecting a downswing, but not one this massive: XWINK lost well over $1 million over the course of the weekend.
The crushing defeat came at the hands of Full Tilt's finest, including NoParasan, Dan "Jungleman12″ Cates, Cole South and Phil Ivey.
The actual sum of $1.2 million was lost over the course of 3,211 hands, mainly consisting of $500 / $1,000 PLO and $300 / $600 PLO. His most successful and damaging opponent was Cole South, who took $514k. Other beneficiaries included NoParasan ($159k), jungleman12 ($253k) and Ivey, who fleeced XWINK for over $266k.
As for XWINK's identity? The same person who played XBLINK in 2009 and ruined the high stakes tables at Ultimate Bet. XWINK himself confirmed this in a TwoPlusTwo thread, and went on to say that he plans to cash out $500k of his remaining money and grind more high stakes cash games with the leftover funds.

Following their successful matches against XWINK, Ivey and jungleman12 turned on one another with Ivey emerging victorious. The Full Tilt Poker pro earned a whopping $800k+ over the course of the weekend. He's positive by $1.5 million for 2011 so far despite relatively infrequent play.
Cole South is now negative by only $175k for the year after his $451k weekend. Other big winners of the weekend included skjervoy (up $216k), durrrr (up $286k), and NoParasan (up $340k).
Despite his victory over XWINK, Jungleman12 was the second worst player of the weekend in terms of money. He lost $635k, though his hugely successful January and February still keep him at +$800k for 2011.
Other major losers included Viktor Blom (down $288k), Patrik Antonius (down $260k) and Scott Palmer (down $123k). Blom is now negative for the year by $100k.