written by: Steve under News Comments: Comments Off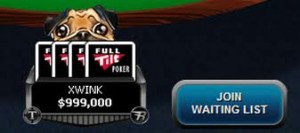 A number of European poker sites (likely originating with the Danish site pokernyhyderne.com) are reporting an interesting chat-log between the nosebleed's newest anomaly 'XWINK' and a trio of his high-stakes opponents. Apparently XWINK cashed out $1 million of his recent $2 million upswing, but has since lost the remaining $1 million. Desperate to keep playing (probably not a good thing) and not wanting to wait the week it takes to deposit that kind of money XWINK has been hitting up other high-stakes regulars for a loan.
While he undoubtedly has the money, he is still an anonymous online poker player, and even more alarming is the desperation he is showing to stay in action. After two rejections by Rui Cao and Bttech86, XWINK did find a player willing to front him $25,000, Scott Palmer –who also declined to accept interest.
Fortunately the chat-log is in English even on the European sites, so here it is in full from pokernyhyderne.com:
XWINK: is it possible to get a loan?
Rui Cao: no sorry :/
XWINK:


XWINK: this is all i got
XWINK: depositing 500k in like 5 days
XWINK: if u loan me, we can play now
Rui Cao: too tired anyway
XWINK: what if i pay intrest
XWINK: will u still do
Rui Cao: n tx
XWINK: kk
XWINK: gl
Rui Cao: u2

___________________
XWINK: hey btech
XWINK: you do loans? =T
Bttech86: n sry
XWINK: k
XWINK: gl
____________________
XWINK: i cashed out 1mil and its in..
XWINK: now it takes 5-7 days to get a deposit working
XWINK: so i wont have $ for 5 days or so
XWINK: possible to do another loan or?
XWINK: ill pay intrest


URnotINdanger2: ya sure dont want interest its ok
URnotINdanger2: but dont wanna do more then 25k still
XWINK: kk
URnotINdanger2: just shipped it
XWINK: cool thx