written by: Steve under News Comments: Comments Off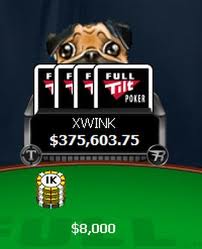 The Canadian online poker player, XWINK, known for his insane bankroll building techniques and volatile swings has returned to the high-stakes poker tables after nearly a month-long absence following a quick $1+ million heater in a matter of days. Following his epic run at the tables, where he cashed out somewhere between $500,000 and $1,000,000 after going from $4,000 to some $1.5 million—only to lose his remaining bankroll and end up going busto and asking for loans.
Apparently the shortage of American high-stakes regulars has been a GOOD thing for the nosebleed games, as a number of players have been returning to partake in the action including Ilari "Ziigmund" Sahamies and Jens "Jeans" Kyllönen, and now the mysterious Canadian player XWINK.
XWINK was seen at a number of different high-stakes tables on Full Tilt Poker this past weekend and according to www.highstakesdb.com the Canadian managed to turn a $230,000 profit in the 2,500 he participated in of PLO ranging in stakes from $25/$50 to $200/$400 –XWINK seemingly plays for a set number of hands against any opponent before moving on to another table, and if he is up… he is moving up in stakes!
Despite getting hammered after his initial early success, according to the highstakesdb.com database, XWINK is up some $900,000 overall at the high stakes tables. He is also supposedly the player behind the UB Poker account XBLINK that went on a similar tear about a year ago. Considering his penchant for wild swings, we'll have to wait and see how his latest foray into the nosebleed games ends.