written by: John under Poker Pros Comments: Comments Off
It seems as if poker players keep getting younger and younger, beating each other out for the title of the youngest player to ever win a WSOP bracelet by mere days past their 21st birthdays. Here are the 7 youngest players to ever hold the record of youngest player to win a bracelet or youngest player to win the WSOP Main Event Championship.
#7 Gavin Griffin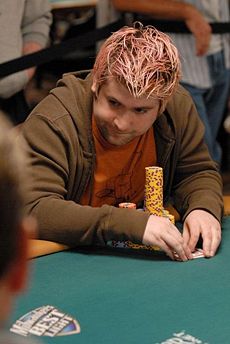 Gavin Griffin became the youngest WSOP winner in history in 2004 when he stole the title from Phil Hellmuth, who would still reign as the youngest player to win the WSOP Main Event until 2008.
.
.
.
.
#6 – Eric Froehlich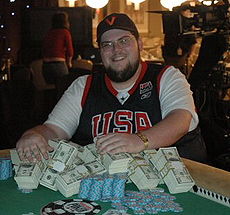 Eric Froehlich broke the record of youngest poker player to win a WSOP bracelet in June of 2005 when he won the $1500 Limit Hold' em event. He had just barely qualified for the tournament, turning 21 on February 9th of that year, making him three months and three days past his birthday. He had just dropped out of college when he won his bracelet, but he still sported the University of Virginia ball cap at the table. After an eight-hour final table, Froehlich bought the bracelet and a $361,910 payout.
.
#5 – Jeff Madsen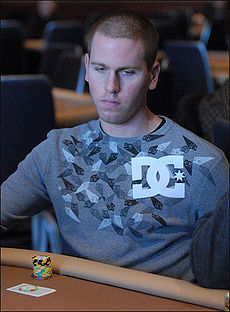 Jeff Madsen, only one year later, took the title from Froehlich as the youngest bracelet winner at only one month and nine days after his 21st birthday. He won his bracelet at Event #22 with a $2,000 buy-in and won $660,948. After two days, Madsen beat out a field of 1,570 other players and made it to the final table that included nine remaining players, none of them bracelet winners.
Following his win, he planned on heading back to college for his senior year as a film student at UC-Santa Barbara. While young, Madsen was no rookie at live poker play. The gambling age in his home state was 18, and he had been playing at Indian casinos in California for almost three years. Nevada state law prevented him from entering the WSOP prior to that year.
Madsen commented on the possibility of his record being beaten: "It's going to be tough. I'm just lucky that my birthday was so close. It's going to be hard, since I'm 21 and one month. It will sure be tough to break that record."
#4 – Steve Billirakis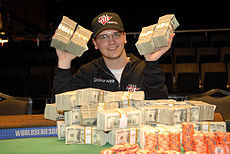 It wasn't that tough, though. Fast forward one year later, and Steve "MrSmokey1" Billirakis, only 21 years and 10 days old, won Event #1 of the 2007 WSOP. The $5000 No Limit Hold'em/Limit Hold'em Mixed Championship final table also included seasoned veterans, rookies, and WSOP bracelet winners, but ultimately, none were a match for Billirakis. He beat out online poker legend, Jon "Pearljammer" Turner; 2002 bracelet winner, Fred Berger; veteran, Roger McDow; poker pro Greg "FBT" Mueller; 1998 bracelet winner, Kirk Morrison; and 25-year veteran, Tony George. Bilirakis won $536,287 to go along with his bracelet and still standing title.
#3 – Joe Cada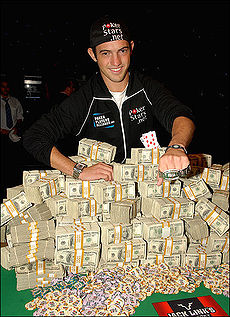 Joseph Cada won this year's WSOP as the youngest Main Event player to win the WSOP at 21 years old. Cada is part of a trend in poker, both live and online, that brings young men to the poker table to tear down the chip stacks of veterans in ways they never dreamed of. There seems to be a line down the middle of poker—you're either young or your old (or female). You are on the young team or you're on the old team, and if you are under 25, you're old. For whatever reason, be it the Internet, a university trend, or just a blip in the matrix, there has been an influx in young poker players emerging over the past two to three years, and they seem to get younger and younger every year. Cada won $8,547,042 after outlasting a player field of 6,494 and a final table that even included Phil Ivey the Great.
#2 – Peter Eastgate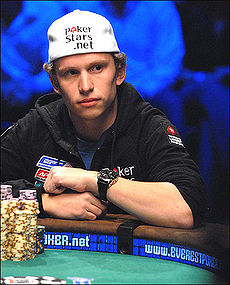 Peter Eastgate stole the title of world's youngest professional poker player to win a WSOP Main Event bracelet from Phil Hellmuth, who had held the title of world's youngest world champion of poker for 19 years. At 22 years old, Eastgate took the world of poker by storm and redefined the role of world champion. It was the dawn of the young guns and what better way to honor them than one of their own winning the most prestigious and esteemed poker title in the world. He also became the second Dane to win a WSOP bracelet and $9,152,416 in cash. Eastgate was just 340 days older than Cada, who would go on to take the title away from him just one year later.
Eastgate said after winning the stacks of cash and his shiny gold bracelet, "It feels good to beat Phil's record. I was not focused on the record that I could break, I was just focused on the game."
#1 – Phil Hellmuth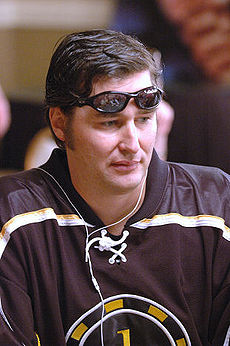 "The Poker Brat" himself, and 11-WSOP-bracelet winner, held the title of youngest world champion of poker for 19 years, making him way ahead of his time when he won the Main Event of the 1989 WSOP at 24 years old. He lost his title to Eastgate in 2008, but still holds the record for most WSOP cash finishes at 75, just 10 ahead of Men "The Master" Nguyen's 65. In total, Hellmuth has won more than $6 million in WSOP career earnings. That's still not as much, though, as Peter Eastgate won in 2008 WSOP Main Event winnings alone. We'll still give him the first spot, though, because he held the record for almost two decades, and because he's the man. What else can you say?