written by: James under News Comments: Comments Off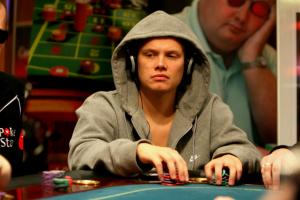 2011 has been a mixed bag for online poker pro Ilari "Ziigmund" Sahamies, but a few nights ago, redemption came in the form of a $155k win on Full Tilt Poker. Ziigmund's win came in the absence of some of the biggest names at Full Tilt, including Gus Hansen, Patrik Antonius and Jens "Ingenious89″ Kyllonen. The lack of logged-on talent had him moving down to the $100 / $200 PLO tables, a move that proved successful.
Ziigmund earned his winnings over the course of 852 hands. Although some of his money came from LokoIsBack and 1stUgetDmoney, most of his evening was spent facing off with Ben Sulsky, aka Sauce1234.
Sahamies and Sulsky played a little over 500 hands, with Sulsky giving up $140k. The remaining $15k came from a few other minor wins.
Sulsky was able to easily recoup most of his losses against another high stakes grinder, KOMIJENDO. The pair battled over NLHE at the $50 / $100 stake level, allowing Sulsky to mitigate his losses to only $35k and leaving KOMIJENDO with a tab of $127k.
Ziigmund hasn't been positive overall for the vast majority of the year, and even his most recent considerable win puts him in the red by $650k.
With most of the heavy hitters absent from Full Tilt Poker for the evening, it didn't take a whole lot to make the winners' circle. LokoIsBack took down $11k, while Zivziv finished as the second biggest winner of the night with only $25k. Canadian player XWINK did make a brief reappearance, winning $11k of his own. This makes XWINK positive by $283k for the year, indicating that he may be taking a more conservative approach to the game following a series of huge crashes.
The online poker scene may remain equally quiet for another two weeks, since most of the best talent is currently on its way to Spain, the site of the European Poker Tour Grand Final.