written by: Will under News Comments: Comments Off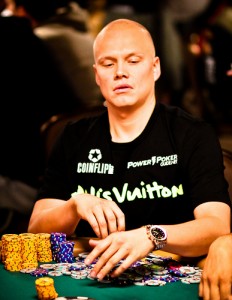 Ilari "Ziigmund" Sahamies, perhaps the world's most wildly inconsistent online poker player, recently had railbirds riveted when he lost $275k one night only to win back the exact same amount the following night. It was Ziigmund's turn to take another loss just a few nights ago, and this time it was a bit more serious – Sahamies finally logged off of Full Tilt with a $462k deficit.
Ziigmund will need to work even harder to come back from this travesty, which took place (as usual) at a 6-Max PLO table at the $300 / $600 stake level.
It took 1,274 hands for Ziigmund to give up nearly a half million dollars. His competition was admittedly stiff – famous high stakes grinders including Ingenious89, DrugsOrMe, ronnyr37617, Rui Cao, Gus Hansen and Patrik Antonius all showed up, a crew that's becoming so standardized that it practically needs a name of its own.
Although Ziigmund has scored some decent wins at Full Tilt since Black Friday, he's now negative by almost $800k for the year. So much for the possibility of him making it to the black by the end of the week.
Swiss high stakes player ronnyr37617, whose identity has yet to be revealed, put in a performance that was virtually the opposite of Ziigmund's. He was the night's most successful player, winning $452k.
Patrik Antonius also made a triumphant return to Full Tilt after a 24 hour break, earning $344k. Antonius has established himself as the best post-Black Friday online poker player in the world, at least for now. He's positive by almost $1.8 million in just 14 days. Full Tilt pro and France native Rui Cao tore up the PLO tables as well, grabbing $238k.
Gus Hansen and DrugsOrMe took huge losses over the course of the night, dropping $200k and $317k respectively. Hansen has been on a severe downswing for weeks, and at some point, he'll have to make a serious push if he wish to remains the biggest online poker winner of the year.