Twenty years ago, if you entered a casino to play poker, you were most likely an older male. Just five years ago, the average poker club featured a lot of middle aged and older men and only a few men under thirty. Today, the person sitting next to you at the poker table is very likely a younger adult. What's more, the person sitting next to you is increasingly a young female, something almost unheard of in the poker world of the past. Here are the top 5 smoking hot ladies of poker, and anyone who finds himself seated at a poker table with any of them should seriously take heed because they aren't just beautiful—they are smart and can play poker too.
#5 Jayde Nicole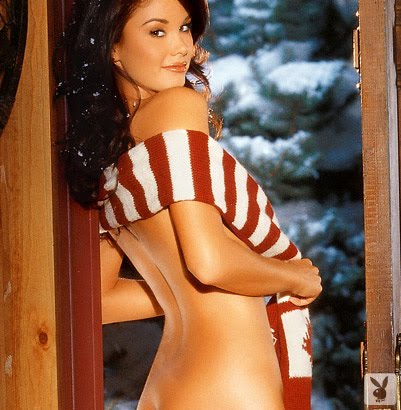 Jayde Nicole, 2008 Playboy Playmate of the year, has been working the poker circuit lately. She first started playing poker about a year ago and is now being seen more often at big-money poker events. She played in the 2009 Legends of Poker Celebrity Media Invitational after being coached by WSOP former Main Event champion, Jamie Gold. She also participated in the Ante Up for Africa event and recently appeared on the television show, PokerStars.net Million Dollar Challenge in November. She will also be playing at the online poker rooms, so catch her in some of the big money tourneys online and the PokerStars Caribbean Adventure in January. She also plans on joining in on the fun at WSOP in 2010. She's hot, but she hasn't been on the poker scene that long; therefore, she comes in at #5.
#4 Shannon Elizabeth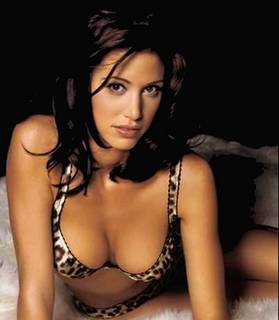 Shannon Elizabeth is best known for her role in American Pie, but now she uses her acting skills for her poker face when she sits at the tables. Born in Texas in 1973, time has been nice to Elizabeth, as she's still hot and the oldest babe on our list. She's cashed numerous times to make a nice sized poker purse for herself. Poker appearances include Bravo's Celebrity Poker Showdown and Nicky Hilton's 2005 New Years Eve Poker Tournament, which Elizabeth won. She also appeared recently in a movie about poker, Deal.
While she did appear at a celebrity poker tournament over the summer, many have been looking for her return to the professional circuit.
#3 Lacey Jones
Lacey Jones has been playing poker since she was five, but she's not five anymore. She comes from a long line of poker players and admits that the women in her family are better players than the men. During her stay at the University of Arizona where she majored in Political Science, she started to take the game seriously. She actually made more money at fraternity poker games than she did as a bartender. She graduated at 22 and moved to LA to pursue a career in modeling.
ESPN hired Jones for her beauty in 2005 to appear at a charity poker tournament to attract media attention. Little did they know, she could play poker too. She finished 32nd out of 360 other players, though she didn't cash. She was noticed by Absolute Poker who brought her in to represent the online poker room at tournaments and began training with Mark Seif. Her multi-faceted career exploded. She went on to appear in television shows such as Entourage, The OC, and Las Vegas. She was also hostess for ESPN at this year's WSOP.
What makes Jones even sexier is that she admittedly uses her sex appeal when she's playing poker. She'll even flirt with her opponents as a way to make them feel bad for her and fold. Bluffing men is easy for this smart but lovely poker lady, who believes men underestimate her skills and always take the bait when she raises.
She's had plenty of cash finishes since she started playing professionally and has appeared on the cover of Bluff Magazine and is repeatedly referred to by many as the hottest woman in poker.
#2 Kimberly Lansing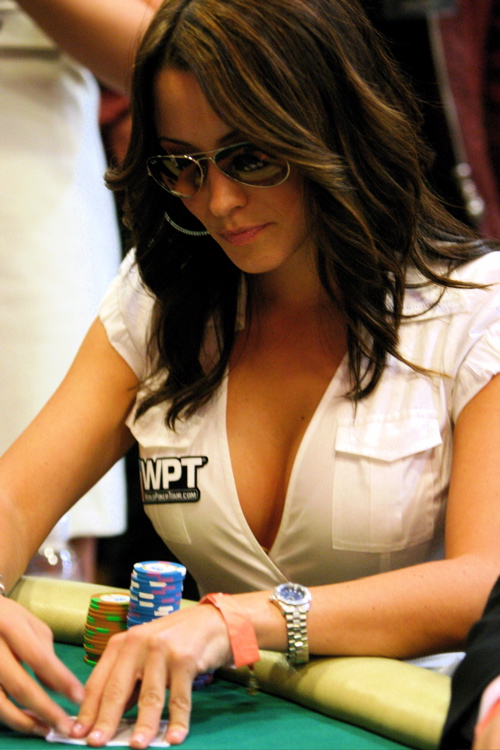 Kimberly Lansing, the real deal from Laguna Hills, California, majored in Broadcast Journalism at the University of Southern California before finding her way into poker. She then went on to write for US Weekly Magazine, the Associated Press, People Magazine, and eventually became a host and reporting correspondent for Hollywood.com Television.
Lansing fell in love with poker and was then offered a position as host for OnGame Network's Poker Classic at the Casino de Barcelona. She then went on to report on the WPT Celebrity Invitational Tournament for People Magazine where WPT noticed her beauty, charm, talent, and passion for poker. WPT hired her as online hostess, a job that sent her around the world doing interviews and reporting on WPT events, boosting the popularity of WPT media coverage simply because people love her.
She knows she's got what it takes too. She said, "To be honest with you, I don't think it has a ton to do with looks. I think I'm rare: I don't think there are a lot of girls out there that can do what I'm doing." Now that's confidence.
You can catch her playing at a number of live events including WPT and the upcoming 2010 WSOP Ladies Event.
#1 Vanessa Rousso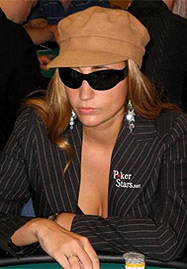 Vanessa Rousso is one of the most popular female poker personalities, well-known on the poker circuit, both online and off. After coming in 7th in the 2006 WPT Championship and cashing out with more than $250K, her career in poker took off. In that same year, Ruosso won another $285K cash finish in a No Limit Hold 'em event. In addition, she's appeared on the television show, Poker After Dark, on NBC, and for the year of 2009, she's #192 on the Player of the Year list, which is pretty impressive for a girl.
Rousso was able to work poker into her schedule while she attended college at Duke University and then the University of Miami Law School. This dual US-French citizen can speak French, Spanish, and English and enjoys participating in celebrity charitable events.
Rousso became even more popular when she became the spokesperson for GoDaddy, a website domain and hosting company. She is also a member of Team PokerStars Pro and was a newlywed as of April of this year, when she eloped with her then-boyfriend/now-husband, Chad Brown.
At the poker table, Rousso is animated and chatty with just enough charm to boost her bankroll. She's smart, sexy, and good at poker. What more could you ask for?
While there are many other pretty ladies who grace the tables of poker and should have made our list, the top 5 is no doubt arguable. They all play poker beautifully.