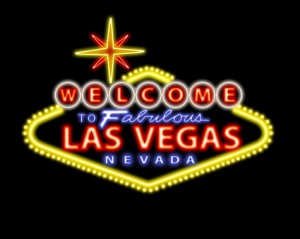 Las Vegas is now the home to many professional poker players who have uprooted their homes and families to pursue a career in gambling, Vegas being the best location to do such a thing. Nowadays, many poker pros can be seen quite frequently at various casinos. So I've taken the best poker rooms in Vegas and coupled them with the best poker celebrity sightings to make a must-play-at list of Vegas casinos for our readers 21 and over.
#7 – ARIA CASINO:
This casino is one of the six major buildings within the City Center complex. The main poker area consists of 18 tables that spread games like $1/$3 and $2/$5 No-Limit Hold 'em and $3/$6 Limit Hold'em. The high-limit area is located in a raised area with curtains used to drown out the sound of the casino machines and passers-by.
Phil Ivey, Patrik Antonius, Jimmy "gobboboy" Frick and Bryan "badbeatninja" Devonshire are some of the pros who have come by to check out the new room.
"I was impressed," Devonshire said "It felt like a cozy, futuristic lodge."  He must being referring to Aria's use of available natural light during the day in order to cut down on energy consumption.
#6 – CAESARS PALACE:
Built for the recreational player and the veteran alike, this poker room has 30 tables with an array of the hottest games.
Jim Pedulla, Caesar's poker room manager, says "our philosophy is that there are a lot of poker enthusiasts out there who want to play in a classy room without being intimidated. We treat our poker players like we treat our high rollers."
The best feature of this venue is that this poker room really is a completely separate room from the casino. You enter the room and walk down a 100-meter hallway to reach the brush desk. This means that the smokers are more than 200 meters away from your table, way back there in the casino. It also means that the sound, temperature, and all other aspects of your poker experience are under the control of the poker room staff. If you are in town and want to play some particular game or limit or mix of games, call Caesars because with very short notice, they will set up a table for you and your friends, and if you have a full table, they will even make it a private game and provide dealers who know all the variations you wish to play. Even the big WSOP Circuit events that come to town have little effect on the availability of the constant ring games here.
#5 – THE VENETIAN:
This may be the best looking high-end luxury poker room in Vegas. There are 32 tables in the main room with a wide range of games. This includes $4/8 and $5/10 Hold 'em; $10/20 Omaha, $8/16 mixed games and $15/30 Limit Hold' em. It also includes $1/2, $2/5 and $5/10 No-Limit Hold 'em. They also have a high-stakes area that hosts $30/60 and $50/100 game from time to time. Every chair in the Venetian is fully adjustable and on wheels; you could not be more comfortable at a poker. There are 10 massage girls giving back rubs for $2/minute and 20 people from two different restaurants taking food orders and delivering it to your table.
The live games tend to attract big spending tourists and the better – though not the best – of the local players. Teddy "Iceman" Monroe is a regular here. The games are surely beatable for the skilled and experienced player.
#4 – MGM LAS VEGAS:
If you are looking for a quiet and secluded room, the MGM is not for you. MGM caters to the young, hip, LA crowd and those tourists who want to experience that crowd. It is located between Studio 54 and the sports book. Adjacent is the round Centrifuge Bar, giving the poker room an hour-glass shape, and you can watch the MGM lions from many of the tables.
The cashier cage is centrally located. The MGM poker room offer $1/2,$2/5, and occasionally $5/10, No Limit Hold 'em. They also offer $2/4. $3/6, and $4/8. Sometimes a $4/8 Omaha Hi-Lo with break out. They are some afternoon tourneys as well. It is a great place to play poker nearly every day, but the weekends are best. Tournaments are advertised as being limited to six tables with alternates, but they will often add tables to the events if the room is not full. The tournaments run smoothly as does the entire poker room operation.
#3 – THE MIRAGE:
One of the oldest poker rooms in the city and will be forever romanticized by Matt Damon's character in Rounders as being the "office" for all big name pros. Recently updated, the Mirage features a roomy 20-table environment. Standard and non-standard games are available and all are offered in Limit, Pot Limit, and No Limit. The Mirage poker room pays double when you flop quads and straight flushes. Relaxing and fun with a good mix of locals and tourists, this poker room delivers great action for any level of play.
And if you are still looking for a Stud game, this is the place to go.
#2 -THE WYNN:
In terms of atmosphere the Wynn's poker room is removed from the rest of the casino, so the air quality is great and the noise pollution is minimal. It is an elegant space that you can be comfortable in for a long time. Instead of having one large room with tables like most poker rooms in Las Vegas, the Wynn has several walls throughout the room, dividing the room into small sections, allowing for a quieter setting no matter what section you are in. The Top Section is elevated with a half rail and drapery to section off for privacy.
Also, the chairs are wheeled and adjustable to your height, and the 27 tables have automatic shuffle machines. Additionally, the floor staff communicate via walkie talkies miked on their lapels, and the waiting list is shown on a large flat screen, so there is no yelling across the floor when a seat is open. When you have been seated, the floor boss will come get you and walk you to your seat. Another unusual thing about this casino is that food is served at the poker table, so you really never have to leave except to go to the bathroom.
The room offers a wide range of games and betting structures. The No Limit Hold 'em tables have blinds from $1-$3 and $2-$5, through the middle ranges from $5-$10, $15-$30, and $30-$60. There is nearly always a $100-$200 game on the board in the evenings. There is no maximum buy-in cap for these tales. Limit Hold 'em starts at $4-$8, $8-$16, $15-$30, and $30-$60. There are often Limit tables at higher blinds on the weekend. The poker room usually has a $10-$20 'mixed game' in progress; this is one of the signature games at the Wynn. Weekends change everything though; the room is very popular and very full every Friday, Saturday, and Sunday.
#1 – THE BELLAGIO:
Playing in "Bobbys Room," you will see superstar poker players such as Daniel Negreau, Jennifer Harman, and other high stakes professional players. Here, "The Game," as they call it, is played in a secure room separate from the main poker area, but with walls of mostly glass, so you can get up from your table to gawk if you want to. The stakes of the game range, but are often $4,000/8,000 limit Hold'em. It is not a closed game, and if you have the cash (at least 100K) you can join them. This is also a very popular room, so be prepared to wait (and yes, there are that many people with $100K to throw down at a poker game).
The main poker room at the Bellagio offers a nice mix of poker newbies, rounders, and pros making for a great live poker experience. The atmosphere is fun, energizing, and exciting. They have a graduated rake that is better than most in Vegas; $1 at $10, $10 at $30, $1 at $50, and then $10 at $80, making it as low as 5% at the final cutoff. The floor and dealers are exemplary and the waitresses are attentive, as well.
Most pros who play poker and live in Vegas play here.