written by: James under News Comments: Comments Off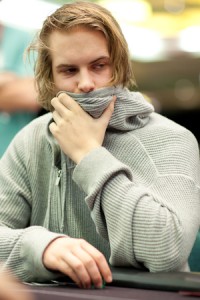 After losing a Round 2 SuperStar Showdown to Daniel Negreanu and a Round 1 event last week against Scott "urnotindangr" Palmer, Viktor "Isildur1″ Blom came back a few days ago to claim victory in the famous PokerStars heads up series, all of which feature Blom against a cast of rotating opponents.
Blom's domination over Palmer consisted of 2,500 hands of NLHE at the $50 / $100 stake level. At the session's conclusion, Blom found himself positive by just over $66.5k for the evening. This is a decisive win for Blom, as Palmer only had a $5,000 lead over the Swede at the end of last week's Round 1.
Blom has had difficulty building early momentum in past installments of the Showdown, but that wasn't the case in this latest match. Blom got off to an early lead after quickly erasing the deficit, and held onto it for the remainder of the session.
As per usual for the SuperStar Showdown, Blom ran hot and the cards seemed to fall in his favor more often than not. In a big early pot, Blom received a full house on the flop and Palmer completed a straight on the turn, resulting in a sizable score for Isildur1. Two hours in, Blom flopped a nut flush while Palmer held a queen-high flush, again giving the pot to Blom.
The biggest hand came approximately 1,750 hands into the session, with I1 leading by $78k. Blom completed a full house and Palmer scored trips, both on the turn. Blom made the first bet, Palmer matched with a raise and Blom raised again. A worthless deuce on the river had Blom putting an additional $8k in the pot for a total of $47k. Palmer called, and Blom instantly went to $100k profit for the night.
The last 500 hands largely belonged to Palmer, but there simply wasn't enough volume remaining for him to chip away at his huge deficit.
Blom is now holding a 6-3 record in the series. PokerStars is expected to announce Blom's next opponent within a few days.