Archive for the 'Vegas' Category
written by: John Comments: 1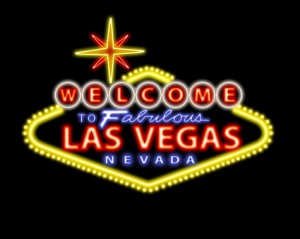 Las Vegas is now the home to many professional poker players who have uprooted their homes and families to pursue a career in gambling, Vegas being the best location to do such a thing. Nowadays, many poker pros can be seen quite frequently at various casinos. So I've taken the best poker rooms in Vegas and coupled them with the best poker celebrity sightings to make a must-play-at list of Vegas casinos for our readers 21 and over.
#7 – ARIA CASINO:
This casino is one of the six major buildings within the City Center complex. The main poker area consists of 18 tables that spread games like $1/$3 and $2/$5 No-Limit Hold 'em and $3/$6 Limit Hold'em. The high-limit area is located in a raised area with curtains used to drown out the sound of the casino machines and passers-by.
Phil Ivey, Patrik Antonius, Jimmy "gobboboy" Frick and Bryan "badbeatninja" Devonshire are some of the pros who have come by to check out the new room.
"I was impressed," Devonshire said "It felt like a cozy, futuristic lodge."  He must being referring to Aria's use of available natural light during the day in order to cut down on energy consumption.
#6 – CAESARS PALACE:
Built for the recreational player and the veteran alike, this poker room has 30 tables with an array of the hottest games.
Jim Pedulla, Caesar's poker room manager, says "our philosophy is that there are a lot of poker enthusiasts out there who want to play in a classy room without being intimidated. We treat our poker players like we treat our high rollers."
The best feature of this venue is that this poker room really is a completely separate room from the casino. You enter the room and walk down a 100-meter hallway to reach the brush desk. This means that the smokers are more than 200 meters away from your table, way back there in the casino. It also means that the sound, temperature, and all other aspects of your poker experience are under the control of the poker room staff. If you are in town and want to play some particular game or limit or mix of games, call Caesars because with very short notice, they will set up a table for you and your friends, and if you have a full table, they will even make it a private game and provide dealers who know all the variations you wish to play. Even the big WSOP Circuit events that come to town have little effect on the availability of the constant ring games here.