written by: John under News Comments: Comments Off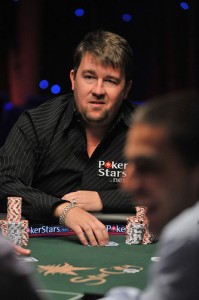 Day 5 of the PCA Main Event started with just 22 players, and now with just 17 players remaining in the tournament Chris Moneymaker is still holding strong in 2nd place on the leader-board, nipping at the heels of Chip-leader Chris Oliver –who went into Day 4 as the chip-leader but dropped back by the end of play yesterday, only to have resurgence in the early part of today's action.
The current chip counts for the remaining players are:
1.     Chris Oliver 5,860,000
2.     Chris Moneymaker 5,715,000
3.     Bolivar Palacios 3,810,000
4.     Anton Ionel 3,700,000
5.     Ana Marquez 3,600,000

6.     Dmitriy Stelmak 3,500,000
7.     Galen Hall 3,375,000
8.     Mike Sowers 2,765,000
9.     Max Weinberg 2,600,000
10.  Philippe Plouffe 2,100,000
11.  Rafael Golka 2,095,000
12.  Michael Pesek 1,600,000
13.  Walid Bou-Habib 1,575,000
14.  Martin Mathis 1,300,000
15.  Sam Stein 1,135,000
16.  Calvin Anderson 1,010,000
17.  Gregory Baksic 665,000
So in addition to Moneymaker, poker pros Mike Sowers and Sam Stein are still in the hunt for the coveted title, and $2.3 million that will be awarded to the winner of the tournament.
The remaining players will continue to play today until the final table of eight is determined at which time play will be suspended until Friday, when ESPN will attempt a first in televised poker –broadcasting the final table on a 1-hour tape delay, hole cards and all!