written by: Steve under News Comments: Comments Off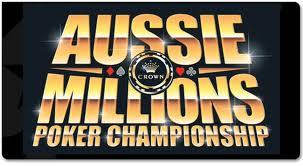 Apparently two of the 257 players that participated on Day 1a of the opening tournament of the 2012 Aussie Millions (a  $1,000 buy-in No Limit Holdem event with three starting flights) thought they were playing online, which is the only conclusion I can come to for their attempt to pull the "old switcheroo" on their fellow players and the Aussie Millions staff.
Sometime during a table break, a player who had been eliminated switched places with another player in the tournament who would be unable to participate on Day 2 of the tournament. The scheme has all the hallmarks of an account buy from an online poker site when a less experienced player makes a deep run in a big tournament, only this time around the players were hoping on the large field size and the general upheaval associated with table breaks to hide their ruse.
The scheme was discovered by an alert member of the floor staff and was later verified by the Crown Casino's security cameras. Both players (who remain unnamed) were eliminated from the tournament and will be looking at a lengthy suspension from the Crown Casino according to Card Player Magazine.
Interestingly, the tournament utilizes a repechage format (which is just another name for a re-entry event where players who have been eliminated on Day 1a can enter again on Day 1b or Day 1c, or players eliminated on Day 1b re-entering on Day 1c) so the eliminated player could have simply taken another shot the next day, assuming they had a spare $1,000 of course!