written by: James under News Comments: Comments Off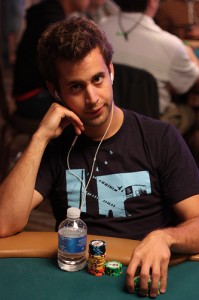 The virtual felt at PokerStars was ablaze this past week, with some of the biggest names in online poker battling it out in high stakes cash games. Phil "takechip" D'Auteuil was the biggest success story of the week, earning over $414k playing almost 6,000 hands across 47 sessions. D'Auteuil is now the seventh-biggest online poker winner of the year with almost $1.4 million in positive earnings.
D'Auteuil boosted his bankroll largely at the high stakes PLO tables, though plenty of action occurred in $50 / $100 NLHE as well.
Directly behind D'Auteuil was Peter "GARFIELD25″ Chan, who played a relatively prolific 8,145 hands to win over $377k. He actually earned $485k on Tuesday alone, enough to nearly erase the half-million deficit he accumulated over the course of the year. Chan would've been the top earner of the week if not for a $106k pot that he lost late to D'Auteuil.
"!P0krparty!," an unidentified player believed to be Harry Kaczka, had an excellent week as well with $230k in profit. His volume towered over everyone else's, with over 22.5k hands across 133 sessions. Finally there was Ville Wahlbeck, earning over $210k after 2,256 hands.
Just as many big-name poker pros were deep in the red last week. The worst performer was Rui "PepperoniF" Cao, who lost $194k after playing 6,629 hands. Brian Hastings experienced a rare losing week as well, dropping $126k after a relatively paltry 1,600 hands. Much of Hastings' money went directly to Chan, though Phil Galfond contributed a fair portion as well.
Typically a strong performer, Jen "Jeans89″ Kyllonen faltered last week as well with $112k in losses after 3,865 hands. Romain "moirhums" Arnaud, the biggest winner in the prior week, largely canceled his earnings by losing $117k after about 2,000 hands.