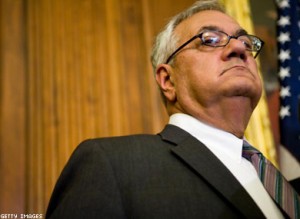 It's a good news, bad news situation for supporters of online poker licensing and regulation in the United States. On Tuesday, polls opened for the entirety of the House of Representatives and around 1/3 of the Senate. When the polls closed, Barney Frank had been reelected with a 54% favorable vote. However, the House was conceded to the Republicans – likely meaning that Frank will not be chosen to continue as the Financial Services Committee chairman.
This could mean a loss of steam for this year's progress towards online poker legislation in the United States. While poker players are still split between whether or not the US government should take over the online poker industry, the loss of such a powerful advocate of online poker will likely result in some loss of momentum.
One of the defining factors of Frank's legislation with regards to online poker is protecting the player from fraud and other illegal activity, something from which all online poker players can draw some benefit. Most notable of Frank's contributions to online poker regulation was his introduction of the bill HR 2267. Although the mark up of this bill was completed earlier this year in July, the House has yet to address it.
As for the likely replacements for Frank, Spencer Bachus (Republican, Alabama) is the most likely candidate. Bachus has long been associated with anti-gambling legislation. However, organizations such as the Poker Players Alliance have one trick left up their sleeves – not a single person in Congress can make the argument that the PPA's main target, the UIGEA, has been a successful piece of legislation. Bachus is doubtful to argue for the bill and, as new guidelines are established, it is likely that HR 2267 will be reviewed very carefully and seriously.
Despite the magnificent flop of the UIGEA, it's creator Bob Goodlatte was reelected for another two years. However, supporters of online poker like Jim McDermott (D-WA) and Shelley Berkley (D-NV) have also returned to Capitol Hill.
It is clear that the view on online poker is changing in Congress. Many Republicans have noted disgust at the failure of the UIGEA and are looking for a change. According to the Executive Director of the PPA, John Pappas, "We're very excited to educate so many new members." Many members of Congress are now looking toward the revenue opportunities that control over online gambling could offer – possibly being one of the answers to the recession in the United States. Now being compared on some levels to the end of prohibition that helped lift the US from the Great Depression, an enormous amount of money is associated with online poker in the United States alone – and this will certainly not miss the eyes of new Republicans in Congress.