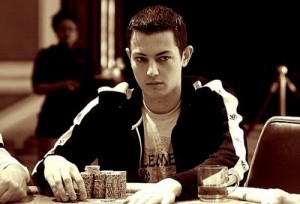 It's no secret that Tom "durrr" Dwan has had a lot to think about lately. Falling behind in his high stakes challenge against Jungleman12 and losing a few huge pots hasn't helped the 22 year old poker professional get back on his feet. However, Dwan recently played a high stakes game against another name around the Full Tilt Poker high stakes tables – Ilari Sahamies (or Ziigmund). Over just a few sessions at the $500/$1,000 tables, Tom Dwan managed to work his way up over Sahamies to help October be a $1.5 million month thus far.
Last Sunday night, Dwan decided to try his hand at the $500/$1,000 PL Omaha tables at Full Tilt Poker and found Sahamies waiting for him. For Dwan, this must have been a critical night as many reports show that Dwan was hit for almost $800,000 in losses during the month of September. One of the biggest pots for the night went in Dwan's favor – a lucky eight high straight that awarded him a huge $415,996 pot. During this hand, Sahamies was in pre-flop for about $18,000. The flop came Five-Eight-Jack with a couple of hearts. Sahamies bet $36,000 but was met by a flash raise by Dwan for $144,000. Sahamies decided to shove with his 2 pair and Dwan called with an open ended flush and straight just begging to hit the board.
Of course, the turn gave Dwan what he needed, a four, and he finished the hand with a nearly a tidy $416,000 in his bankroll.
With nearly the exact same hand – only with the cards reversed – Dwan was again successful against Ziigmund, beating his Flush hopes into the ground with to pair. This hand was a crippling $302,000 loss for Ziigmund.
Finally, Ziigmund gave up another large pot to Dwan; this time around $275,000. Dwan built a solid pre-flop pot up to about a quarter million – forcing Ziigmund all in by the time the flop hit the table. Dwan had a great nut flop for an Ace high flush and scooped up the pot from the now critically hit Ziigmund. With the 1,000 hands played during the session, Dwan came out ahead to the tune of about $1,200,000 against Ziigmund alone. Dwan's other winnings for the month came the same night when he logged about $300,000 total during that night of play.
It may be too early to tell (it was only one night of high stakes poker, after all), but it seems that Dwan may be back on his feet for the time being. After a crippling September, Dwan managed to sink his teeth into another well known high stakes Omaha pro and took him for a night that Sahamies will likely be wishing had never happened. For Dwan, it must be nice to be back ahead by $700,000 for September and October. We'll have to see how the rest of the month goes at the nosebleed section of Full Tilt Poker.