written by: Steve under News Comments: Comments Off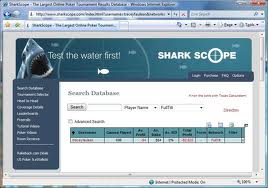 Not long after they began blocking the site pokertableratings.com, which gathers cash game statistics on players across a number of different sites, which it then sells in large hand history databases, Full Tilt Poker is now blocking the Sit and Go tracking site Sharkscope.com, one of the pioneers in online poker datamining. Sharkscope offers detailed analysis of a player's Sit & Go tournament results for a monthly subscription, and covers just about every available poker room on the Internet.
On the site's blog, Sharkscope informed their customers that they will no longer be providing Full Tilt Poker statistics: "It is with great disappointment that we here at Sharkscope must report that our coverage of FullTilt is currently compromised due to an apparent change in FullTilt's policy regarding data retrieval from their site… We are continuing to work on the problem and are still optimistic about restoring full coverage; but this may take some time,"
Judging by the last statement, Sharkscope intends to go around the Full Tilt block, in much the same way Full Tilt Poker still offers its services to US residents.
There has been a lot of debate recently in online poker regarding the role of datamining sites, and whether or not the use of these services is hurting the industry –not to mention the ethics of the whole thing. Apparently Full Tilt Poker has come down against datamining, as the two recent software updates, blocking PokerTableRatings.com and Sharkscope.com, point to.