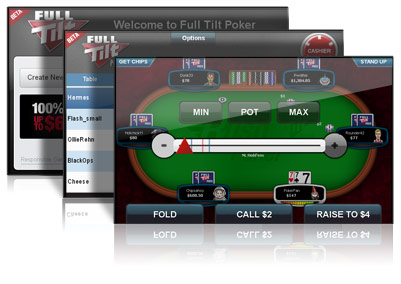 More iPhone users will be frustrated as their Android-sporting friends flaunt the new Rush Poker app that was released recently. For those that aren't familiar with Rush Poker, it is a fast paced version of poker that immediately deals you in a new hand at a new table as soon as you fold. It's the perfect form of poker to play on the go from a mobile phone. You can literally play hundreds of hands per hour. Full Tilt also has a mobile version at https://mobile.fulltiltpoker.com/mobile/ that can be played on any phone that supports flash. So pretty much no love for iPhone users from Full Tilt.
So how does the app work?
I fired up the marketplace on my droid 2 and did a quick search for Full Tilt Poker. The app came up, I clicked on it, and it downloaded very fast. The initial loading of the app was a little slow, but once the game got going it was pretty impressive. Game play was very smooth. It even has the familiar sounds of the chips and alerts that the standard version of Full Tilt has.
One thing I noticed right away was that I couldn't do anything else on my phone while I was playing poker. If I tried to exit out and come back to the app, it would have to load all over again, albeit much faster this time, and log back in. I also noticed that I had received a few text messages during play that I wasn't alerted to. These are some very minor gripes. I see this app coming in very handy at the DMV, airport, or any other place with long waits.
Can I play poker on my iphone?
Probably not. The app was only released for the android platform. Using the mobile version that can be accessed from a web browser will require flash. Since Steve Jobs hates flash I would assume you won't be able to play on Full Tilt from your iphone unless you unlock it and enable flash.
How can I get the Full Tilt App for Android?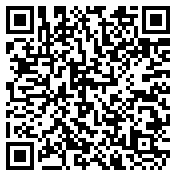 The app is available in the marketplace or you can scan the qr code to the right. Full Tilt says that any device using Froyo 2.2 should support the app. Here is a quick list of compatible phones from this page:
Acer Liquid Stream S110
AT&T Captivate (2.2 Froyo)
Cherry Mobile Magnum HD
docomo HT-03A (2.2 Froyo)
HTC Desire (2.2 Froyo)
HTC Droid Incredible (2.2 Froyo)
HTC Evo 4G
HTC Google Nexus One
HTC Desire HD
HTC Desire Z
HTC Magic (2.2 Froyo)
HTC Sapphire (2.2 Froyo)
Motorola Droid (2.2 Froyo, 800Mhz and higher suggested)
Motorola Droid 2
Motorola Droid Pro / Droid 2 World Edition
Motorola Droid X
Motorola Milestone (2.2 Froyo)
Motorola Milestone 2
Samsung Galaxy S (2.2 Froyo)
Sprint Epic 4G (2.2 Froyo)
T-Mobile G2
T-Mobile myTouch 3G (2.2 Froyo)
T-Mobile myTouch 4G (2.2 Froyo)
T-Mobile Vibrant (2.2 Froyo)
Verizon Fascinate (2.2 Froyo)