written by: Will under News Comments: Comments Off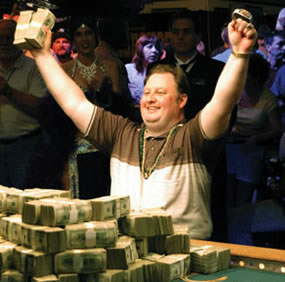 Last month, the poker community was shocked to find out that long-time PokerStars sponsored pro Greg Raymer would be leaving the organization. Although details regarding the split were sketchy, it was obvious that money (or a lack of it, as it may be) was the driving factor.
Railbirds and pros alike knew that Raymer, who is a spokesman for the Poker Players Alliance and the Champion of the WSOP Main Event in 2004, probably wouldn't be left in the cold for long. Not surprisingly, Raymer appears to have inked a new (though perhaps temporary) sponsorship deal with PokerStars' primary rival: Full Tilt Poker.
BluffMagazine.com reported that Raymer is to be sponsored by Full Tilt for the upcoming National Heads-Up Poker Championship, which will be sponsored by NBC. His opponent is none other than Mike "the Mouth" Matusow, also sponsored by Full Tilt. Matusow famously (and typically) verbally assaulted Greg Raymer during Raymer's WSOP run in 2004. According to recent interviews, Matusow and Raymer have been on very friendly terms for quite some time despite that incident.

Although NBC will not be airing the National Heads-Up Poker Championship until April, the event is already underway. The HU match between Matusow and Raymer is scheduled as the featured match for the broadcast.
It's worth noting that Full Tilt Poker and Raymer have not officially joined forces on a permanent basis, though many are expecting a full sponsorship deal to be written up following the broadcast. Many poker analysts point to Raymer, who is known for being charismatic, highly approachable and well-spoken, as the ideal sponsored player for practically any pro team. As of now, however, there's no mention of Raymer's name on Full Tilt's roster, which is host to Gus Hansen, Patrik Antonius, Tom Dwan, Phil Ivey and many other household names.