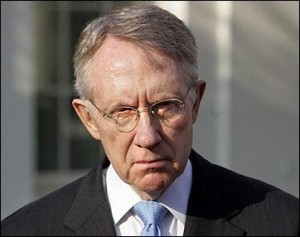 According to reports from trusted Washington insiders, Harry Reid (US Senate Majority Leader, D., Nevada) is attempting to attach online poker legislation to a tax cut package proposed by President Barack Obama. Entitled the Internet Poker Act of 2010, the legislation would attempt to legalize and regulate online poker within the United States. Reid hopes to introduce the act before December 17, when the current congressional session will end.
A rough draft of the Internet Poker Act was published in the Las Vegas Review Journal last week. If the act becomes law, US poker players will be able to look forward to a more stable, albeit more restricted online poker environment.
First, any online card room that wants to operate in the United States will need to pay a 20% tax on every deposit made at their site. Of course, it would be up to the individual site to decide whether these taxes would be handled internally or passed on to the players. In addition, these sites would need to secure a 5-year operating license in order to provide services to the US.
In the short-term, online poker in the US could be inconvenient, if not impossible. Licenses would not be issued at all until 15 months after the passing of the act. This means that major online poker sites, such as Full Tilt Poker and PokerStars, would need to temporarily shut down their US operations.
In addition, only current racetrack and casino operators, as well as slot machine producers, would be able to obtain these licenses in the first 24 months of the bill's existence. Finally, US players would be separated from international players for three full years. This would be detrimental the player traffic found at all US-friendly poker sites, regardless of your geographical location.
The Internet Poker Act isn't without its Washington detractors, either. Steve Grossman, the elected Attorney General of Massachusetts, is opposed to the passing of the bill and the legalization of online gambling in the US in general. Grossman believes that the Internet Poker Act would directly take money away from state lotteries. According to Grossman's reasoning, US citizens who normally purchase lottery scratch cards and progressive jackpot lottery tickets would divert their attention to online gambling, cutting down on state funding that normally goes to public schools and other necessary services.
What do you think? If online gambling was regulated and legalized in the US, would regular lottery ticket purchasers skip their daily Powerball purchase in favor of an online craps session?