written by: Will under News Comments: Comments Off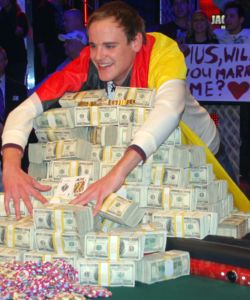 You may have a hard time believing this, but the answer is zero dollars. Pius Heinz, a native of Germany and the winner of the 2011 World Series of Poker Main Event, will not have to pay a dime in taxes on the staggering $8.7 million he won just a single week ago.
The news comes courtesy of Clayton Financial and Tax's Russ Fox along with Darren Rovell of CNBC. Heinz owes a big thank-you to the U.S.-Germany Tax Treaty, which states that gambling income is "exempt from U.S. taxation." The German government classifies gambling earnings as post-tax funds, and as such, Heinz will hold onto every dollar of his $8,715,638.
The situation is even more incredible when you compare it to that of Peter Eastgate, the 2008 WSOP Main Event champ and a native of Denmark. Eastgate won $9.1 million for his victory, but was only able to keep under $3 million thanks to the 73% tax rate his homecountry slapped on his take.
Remember, players are taxed based on where they permanently reside, not where they win their money through poker. This year, it just so happened that the overall tax rate on the November Nine was 18.91%. A total of $28.2 million was awarded, and $5.4 million of that will go directly to the players' respective state and federal governments. That's far better than in 2010 when 43% of the final table money was sucked up by taxes.
The only other player to escape tax-free from the final table is Sam Holden of the U.K., who finished in 9th but will keep the entirety of his $782,115. One of the hardest-hit players was Ben Lamb, who will keep just under $2.5 million of the $4 million he won in the Main Event.