written by: Will under News Comments: Comments Off
Anyone with at least an intermediate knowledge of gambling, and especially sports betting, is familiar with the term "juice." For those that aren't, "juice" can be defined as the commissions and fees paid to a gambling facilitator, such as a sportsbook, in exchange for the opportunity to place a wager. The concept can be applied to virtually any service that charges convenience fees – if you purchase a ticket from an online ticket broker, you might think of the additional fees beyond the price of the ticket as "juice."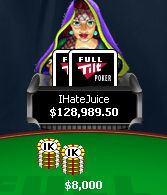 Apparently, a significant portion of the players at Full Tilt Poker are unfamiliar with the term, and complaints from these players has caused the online poker mega-site to request a mandatory screen-name change from online high stakes phenom IHateJuice. The complaints received by Full Tilt Poker largely result from a misinterpretation of the screen-name when incorrectly pronounced "I hate jews." Poker forum junkies disputing the move are citing the fact that IHateJuice lives in Germany as a reason why so many are unfairly complaining about the handle.

Full Tilt Poker took the complaints seriously, and forced IHateJuice to change his moniker. From now on, he will be known as Kagome Kagome. In a somewhat contradictory statement, IHateJuice noted that he was steadfast in his refusal to change his name "until the last moment," but that he "[saw] their point" after Full Tilt forced him to do it.
Not surprisingly, the name change has already caused some confusion at the high stakes tables. One of Kagome Kagome's opponents, who lost $7,200 to the freshly renamed player, complained that he wouldn't have sat down at the table in the first place if he'd known who he was up against. Kagome Kagome refunded the player one third of his money, likely out of his own pocket.
What do you think? Was IHateJuice's handle appropriate, or did it demand a mandatory name change? Personally, I've seen plenty of online poker names far more offensive than this, many of which aren't even open to multiple interpretations. It seems that Full Tilt Poker could have saved everyone a lot of confusion by allowing IHateJuice to maintain his famous screen-name and instead issuing a statement explaining the meaning of the name.