written by: James under News Comments: Comments Off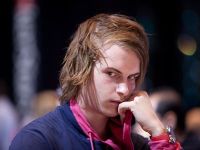 The weekend was not kind to Viktor "Isildur1″ Blom. The Swedish online poker pro lost over $200k despite a prolific session that included over 5,750 hands played against a variety of competitors.
Most of Blom's trouble was delivered by Gavin Cochrane, aka gavz101. The pair played PLO at the $50 / $100 stake level, one of their typical game types. The two have traded blows almost continuously over the past month, with neither player enjoying a major breakthrough in terms of profits. That changed over the weekend, when gavz101 fleeced Blom for $187k.
In an attempt to recoup his losses, Blom moved on to another session, this time against Sauce123 (aka Ben Sulsky). The decision proved to be a mistake when Blom increased his losses to negative $210k.
It was a terrible way to cap off the month for Blom, as he'd built up $550k during May and was finally even for the year once again. His most recent loss erased much of that work and put him negative by $234k for 2011.
Gavz101 ended up gambling away most of the money he earned from Blom. He stayed on PokerStars to find a series of 6-Max games, and the cards simply didn't fall his way. He ended the weekend with only $53k in positive earnings.
Le kork was the weekend's biggest winner pulling down $89k over the course of 7,687 hands, a session that would potentially tire even volume specialist Blom. Other notable winners included 20 Buck Spin (up $59k) and 1-ronnyr3 (up $71k) on PokerStars and O Fortuna PLS (up $54k) on Full Tilt Poker.
Aside from Isildur1, the weekend's biggest losers included adiprene (down $66k), yuri264 (down $73k) and SoloTalent2 (down $75k). Gus Hansen also experienced a loss of $51k, minor given his bankroll but significant nonetheless considering the immediacy of the WSOP. Major names such as Rui Cao and Patrik Antonius were nowhere to be found this past weekend, indicating that they're probably already traveling to Vegas.