written by: Will under News Comments: Comments Off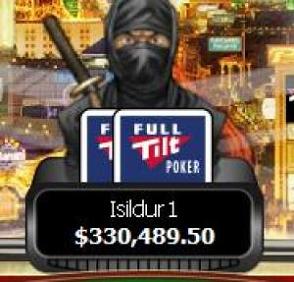 It would seem, to most players, that Isildur1 has flown too high on borrowed wings and is on his way out from the high stakes tables at Full Tilt Poker. After his wide swings at the end of 2009 and the beginning of 2010, Isildur1 all but disappeared from the high stakes until recently. Many are claiming that the recent big name in live poker – Viktor Blom – is Isildur1 and is making a play for the live professional poker player lifestyle.
In Isildur1′s absence, another much less anonymous high stakes player has begun to turn some heads at Full Tilt Poker – Jungleman12, also known as Daniel Cates. So, the most talked about online poker game recently would have to be the battle of the Titans – a high stakes face-off between Jungleman12 and Isildur1.
Yesterday, the two battled at the $100/$200 NL Texas Holdem tables. The game took place because Jungleman12 was online waiting for Tom Dwan to join for their continuing "durrr challenge." As his player avatar would indicate, Isildur1 swung in and sat down for a game against Jungleman12.
Throughout the match, both Jungleman12 and Isildur1 had some huge wins that set them high up over their opponent. However, by the end of the match, Cates was the victor after slow playing Isildur1 with a turned set against Ace high. Although it was certainly not the most crippling loss that Isildur1 has seen this year, Jungleman12 still had a solid gain over him before moving on to face Dwan.
In the Dwan/Cates game, 582 hands were played that ultimately put Dwan about $1,500 ahead of Cates for the session. However, Dwan still has a great deal of work left to catch back up to Cates – who still leads the challenge to the tune of about $700,000.