written by: Steve under News Comments: Comments Off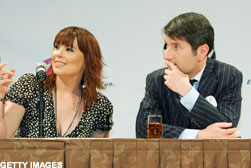 The Federated Sports + Gaming Poker League started with the announcement of the involvement of Annie Duke and Jeffrey Pollack, followed by tournament director extraordinaire Matt Savage, and now most recently poker author Michael Craig was added to the lineup.
Craig, best known for his poker book The Professor, the Banker, and the Suicide King: : Inside the Richest Poker Game of All Time, will head up the FS+G Poker League's executive editor of website content according to a press release issued on Friday afternoon.
Craig will bring his reputation as a journalist and poker enthusiast to the FS+G poker league's website, and as Annie Duke puts it: "Michael's reputation and distinguished background as a serious and highly-regarded writer made him a perfect fit for our company and league… He shares our commitment to celebrating the best live tournament players and we welcome Michael to the team."
Craig will be in charge of all content on the website as well as having the responsibility of selecting a team of writers, bloggers, videographers and tournament reporters that will contribute content to the fledgling poker league's website.
In the press release Craig commented on his new role with the poker league: "I'm thrilled to have a platform to leverage all of my poker knowledge and writing and bring it to a new level and even wider audience… The poker world is long overdue for its own professional league, and I'm honored to be part of the team launching what I believe is the future of the game."