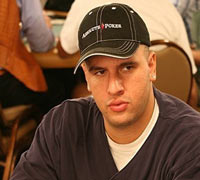 After last week's announcement that Mike Mizrachi (otherwise known as The Grinder) was being sued by Deliverance Poker, many poker players were searching for details about the lawsuit – especially why it was being filed. This week, more information has become available about the lawsuit and who the additional defendant in the suit is. It seems that Deliverance Poker is suing both Mizrachi and his new home, Full Tilt Poker. Full Tilt Poker has declined to comment about the lawsuit. However, some web sites have obtained a copy of the formal complaint that describes the reason for the lawsuit.
Deliverance Poker is claiming that Mizrachi was in violation of his contract terms when he failed to wear a Deliverance Poker logo during his run at the 2010 World Series of Poker Main Event. However, he was sporting the logo during the 2010 World Series of Poker Players Championship – an event that he won. Mizrachi, who was still under contract at the time, did wear his Full Tilt Poker logo during the World Series of Poker Main Event.
The formal complaint with the lawsuit is clear that Mizrachi did enter into a written contract with Deliverance Poker on July 12th of last year. This contract includes verbiage that requires that Mizrachi wear a Deliverance Poker logo during poker play. However, there are still some unanswered questions in the complaint that might be resolved during the hearing. For example, the complaint does not include the actual contract and does not list the end date of the contract. As the main event of the World Series of Poker takes place from July 5th to July 17th, it is possible that the contract was only for one year and Mizrachi was not in violation of the contract by not wearing the logo during the tournament.
Deliverance Poker has also decided to involve Full Tilt Poker in the lawsuit since Deliverance claims that Full Tilt was completely aware that Mizrachi was still under a contract with them and yet requested that he wear their logo – in direct violation of Mizrachi's contract with Deliverance. If this is the case, Full Tilt Poker could be guilty of tortuous interference, or deliberately causing a party to be in violation of their contract with another business or contract.
Mizrachi's only statement about the lawsuit was on Twitter where he simply asked readers to remember that there are "two sides to every story." He furthered commented that he was looking forward to telling his side and revealing the truth.