written by: James under News Comments: Comments Off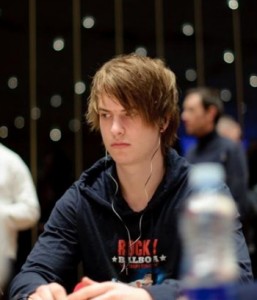 Online poker legend Isildur1 is already cleaning up the high stakes tables at PokerStars, where he recently signed as a pro to the thrill of the poker community. During his first official day as a PokerStars Pro, Isildur1 earned a cool $287,000 in a virtually non-stop 14 hour session at the $25 / $50 tables.
PokerStars has been heavily promoting their signing of Isildur1, a move that attracted plenty of online poker's toughest competitors to the site for a chance to face off against the elusive phenom. These players included Brian "$stinger 88″ Hastings, Scott "urnotindangr" Palmer, and Ashton "theASHMAN103″ Griffin, and just about anyone else with a bankroll big enough to handle Isildur1. Isildur1 was all business even during the announcement, as he spent the time playing $50 / $100 PLO heads up with Phil Galfond, the owner of BlueFire Poker.
Despite Isildur1′s recent high profile signing, little is known about the player. Although his identity has yet to be officially revealed, ongoing speculation and research indicates that the most likely candidate is Swedish-born Viktor Blom. One thing is certain, however, and that is that Isildur1 is among the finest No Limit Holdem Heads Up players in the world.
Isildur1 has been grinding away at the high stakes online tables for years, though he caught the attention of the poker world last year when he took $5 million from Tom "durrrr" Dwan over the course of a 48-hour marathon heads up session. Later, Isildur1 fell victim to a hacking scandal on Full Tilt in which he lost millions.
Looking for a chance to chip away at Isildur1′s incredible bankroll? You'll have it on December 19th, when PokerStars will be starting their promotional SuperStar Showdown. This will be a 2,500 hand session with four active tables of Pot Limit Omaha and No Limit Holdem. PokerStars is putting a $10,000 bonus up for grabs for the winner, on top of the assumed millions that will change hands over the course of the event. If you have the necessary bankroll (and skills) to take on Isildur1, you can contact PokerStars directly to request a spot in the Showdown.