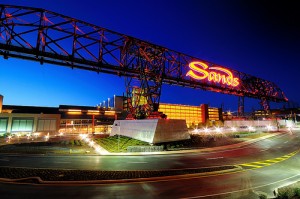 Traditionally, it seems that offline casinos have always devoted the most real estate to the slot machines – it's tough to find a line of the one armed bandits not fully stocked with blue haired veterans hoping to win big. However, the well known Sands Casino in Pennsylvania is looking to change this trend by doubling the amount of poker tables that they will have on the casino floor. After requesting permission from the notoriously stiff Pennsylvania Gaming Control Board, Sands Casino will now feature eleven more poker tables. The original request was for eleven "game tables." It quickly became clear that all of these tables would host poker play.
Before the new tables were added, Sands hosted 12 different poker tables. Now, they will have a total of 23. In order to accommodate the additional poker tables, Sands Casino plans to shift their slot machines around to close the space between each game. However, Sands Casino has also announced that they have no plans to reduce the amount of slot machines offered on their gaming floor.
One of the reasons for the addition of poker tables at the casino was cited by the Sands Casino president – Robert DeSalvio. According to DeSalvio, there were complaints from players that were unable to find a seat at any of the tables at the casino.
One of the primary contributions to the tremendous growth that the Sands Casino has experienced over the past few years is their dedication to table games. After adding table games like Blackjack, Roulette and, of course, poker, the Sands Casino reported enormous growth in revenue each year. Today, the Sands Casino regularly reports a monthly table game revenue in excess of $4 million. In fact, the month of September was a $4.8 million month for table games at the Sands Casino. This growth has made the Sands Casino the 2nd largest casino gaming establishment in Pennsylvania.
Don't expect the Sands Casino to add any more poker tables in the near future. Based on current Pennsylvania state law, the eleven additional poker tables brings the casino's total up to a hefty 100 – the maximum allowable tables in the state. However, you can expect to see a hotel added to the Sands Casino as early as next year – according to casino representatives.