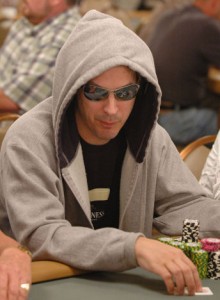 Playing poker for more than 24 hours is a difficult feat under any circumstances, but even more so under the very strict Guinness World Record rules, which require an inordinate amount of paper work, medical supervision, and frequent blood pressure and acuity testing (vision checks), and very limited breaks.
It all went down at the Bellagio, which is one of the busiest poker rooms in Vegas. Laak played at a relatively low-limit table where the blinds—the compulsory antes that each player at the table takes turns playing—are ten and twenty dollars. Anybody could play with him when a seat was open.
Thirty-seven-year-old Laak began playing on Wednesday, June 2nd of this year a little after noon and by Saturday night at 8:41 p.m. (PT), he surpassed the 78 hour, 2 minutes, and 41 second record set in 2009 by British poker pro Paul Zimbler. Zimbler called Laak around the 75th hour to support him and to tell him he wished he was there to play with him during this marathon. Just six hours before, Laak had broken the official Guinness world record of 72 hours and 2 minutes that had been set by Larry Olmstead and could hardly believe he had made it that far. (Olmstead had set the record six years ago back in 2004 and actually wrote a book about it.)
Laak started playing poker about 11 years ago, but before 2003 he had only entered eight tournaments, including the main event at the World Series of Poker three years in a row. His appearances on the World Poker Tour have made him a popular player on the circuit. He became known as the "Unabomber" because of the hooded sweatshirt and sunglasses he wears at the table, making him look like Ted Kaczynski. He is known for pulling closed the drawstrings on his sweatshirt's hood to hide his face during large hands, and to pull crazy antics at the poker table, like doing push-ups to celebrate winning hands, running behind the dealer during showdowns to see which card will come up next, and getting entirely ready to leave whenever he pushes all-in.
On the Poker After Dark program in 2007 he laid down on the floor during a particularly stressful hand. And on the first day of the Main Event of the 2008 World Series of Poker, he wore a latex mask, wig, makeup, and costume. Only his girlfriend, Jennifer Tilly, and best bud, Antonio Esfandiari, knew who he was.
He became interested in tournament poker because of the competition, test of patience, and variety of strategies that come into play during different times in the tournaments. What works for him is that he is good at not getting too involved in the actual outcome. He has the ability to stand back and see if he is playing well, not if he is winning or losing.
He says, "Playing well is what drives me. Not winning. Of course, it is hard to avoid being a winning player if this is your focus. When the session is over, or even between hands, I allow myself (sometimes liberally) the pleasure (but rarely the pain) of wins and loses. It is hard for me to see anything in poker as bad beats. Christopher Reeves falling off his horse and ending up paralyzed—that's a bead beat."  Poker is just a game for Laak.
Laak Trains for the Game
Laak prepared for this attempt for six months with diet. By eliminating cheese, sweets, and fried foods he lost 25 pounds.
"Around the 67th hour, I remember feeling like, 'Oh my God, maybe I should step down.' I thought my body would just collapse. Every time I get there, it takes like a super-human effort, but I stand up and stretch. Once I start moving, I fend off [exhaustion] pretty well."
Laak said he would use caffeine as needed but as of the 80th hour, he vowed he would only drink water and some concoction called dextro-cyclodized amino and protein complex that he swears tastes pretty good. For food, he had a plate of steamed broccoli, grilled chicken, and sweet potatoes.
The rules said he could take a five-minute break for every hour played. He banked several breaks to take a 30-minute nap, which is allowed. He also practices yoga.
Two Winners
After 115 hours of play, Laak finished up with $6,766, donating half of his winnings to charity. He did this for Camp Sunshine, a charity that helps sick kids enjoy summer camp.