written by: James under News Comments: Comments Off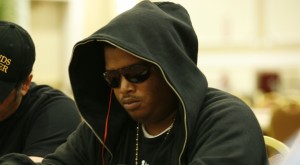 True to his claims earlier this week, Dwyte Pilgrim etched his name on professional poker history on Thursday with a World Poker Tour win at the Borgata. When he prepared to clash with the remaining six players in the tournament, Pilgrim was 4th in chip stack. However, Pilgrim held on to take home a hefty $733,000 after ousting Kia Mohajeri. While Pilgrim casts a tough image at the table, he was brought to tears by the win (and his knees). But hey, who wouldn't with an extra $700k to throw in the bank?
Last year Dwyte Pilgrim was elected the WSOP Circuit Player of the Year. This recent win has only really been the feather in Pilgrim's cap the past few years. The New York City native has now amassed more than $1.5 million in career live earnings. During 2008 and 2009, Pilgrim also logged several significant cashes at poker tournaments. However, until now, Pilgrim was a relatively unknown poker player expect with only the most diligent poker enthusiasts. The World Poker Tour win at the Borgata marks Pilgrim's very first major tournament win on television.
Broadcast on Fox Sports, Pilgrim was his normal chatty and confident self throughout the final. Remarking on the tournament, Pilgrim noted that he felt that he was the "best player at the table the whole time" and could "capitalize on other players' mistakes and make them pay for them." Pilgrim also remarked before the tournament that the final table would make viewers question the way they play poker and find out what be brings to the table.
Despite the bombastic claims under normal circumstances, it would seem that Pilgrim kept his promises ala Babe Ruth and his next claims will be taken much more seriously.
This year's WPT Borgata event was significant for more players than Pilgrim. The event drew a record breaking 1,042 professional poker players that competed for a prize pool in excess of $3.4 million. This didn't just break the Borgata attendance record – but set a new one for the largest player attendance at any World Poker Tour event – thanks largely to the $3.5k buy in down from $10k in previous years.