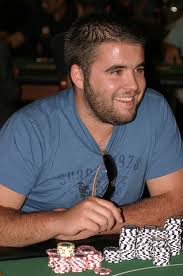 Carter Gill has suffered one of the worst bad beats in poker history considering the poker pro with over $500k in tournament winnings was eliminated from the event after surviving his Day 1 flight. However, Gill was allegedly involved in an incident at his hotel, which was a Caesar's Entertainment property, and Caesar's who own the WSOP brand and the Rio decide to "Trespass" Gill –which means he is not allowed on any Caesar's properties.
Scant details are available as to what actually took place between Gill and an unknown woman –Gill claims that he was dating the girl and after some partying decided to toss her clothes out a window—but whatever happened it was severe enough for Gill to be banned from all Caesar's properties, which includes the Rio and the World Series of Poker.
Gill made it through his Day 1 flight at the 2011 WSOP Main Event with nearly 50,000 chips, but has been eliminated from the event due to his ban –the first player eliminated on an off-day as far as I can recall, although he wasn't exactly eliminated since his stack was blinded off on Day 2a.
Gill went so far as to plead his case to WSOP tournament director Jack Effel on Twitter, but was told Effel could not overturn the ban and "his hands were tied". At the end of a lengthy Twitter conversation Gill lamented: "@WSOPTD I guess I will continue to call all the different heads of security at Harrah's, and now I am forced to try and do more interviews"
So the lesson of the story appears to be: If you like to party it up and have a good timed while you are playing in the WSOP you might want to stay at the Bellagio or some other non-Caesar's controlled property!