written by: Steve under News Comments: Comments Off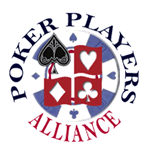 As they continue to urge their members to write, E-Mail, and call their members of Congress regarding the recent crackdown on online poker in the United States, the Poker Players Alliance (PPA) has decided not to offer any suggestions to their members regarding playing online poker in the current climate.
With US poker players effectively cut-off from PokerStars, Full Tilt Poker and Absolute/UB Poker, and with player funds still locked-up at Full Tilt Poker and Absolute/UB Poker the PPA has decided to make no recommendations to US players over depositing at one of the online poker rooms still serving the US market.
According to an Associated Press article PPA director John Pappas warns US players "to be cautious of the risks involved with playing poker online. Pappas says the alliance thinks new laws should take away unnecessary risks to players."
The PPA has organized a "fly-in" in Washington DC on May 24th, where 30 PPA State Directors/Board members, and several poker pros will be meeting with members of Congress to help push forward some type of online poker legislation, as well as to voice their concerns over the recent actions by the FBI and Department of Justice.
The PPA is urging anyone able to join them on the 24th to attend the rally and meet with their members of Congress –the PPA is supplying all the tools necessary for you to arrange a meeting with your specific representatives in Congress.