written by: Will under News Comments: Comments Off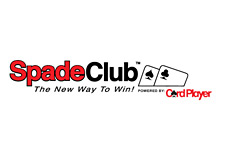 In spite of the many legal subscription based online poker rooms now available on the market, one of the most popular and largest has closed it's doors. SpadeClub was the product of the widely distributed Card Player Magazine and featured a legal United States online poker option for players paying $20.00 per month to compete against other subscribers. Each tournament at SpadeClub featured a cash prize for the winner. Some of the most popular tournaments at SpadeClub were the $5,000 weekly tournament and the $30,000 monthly tournament that guaranteed a lucrative cash prize to the winner.
Although there were an estimated 200,000 members at SpadeClub at the time that they were forced to close, SpadeClub cited financial problems as the major reason why they decided to stop offering their services. On average, SpadeClub paid out around $100,000 in cash prizes to their players every month. Barry Shulman, the owner of Card Player Magazine, stated earlier that the web site could not make ends meet month after month. According to Shulman, "we came very close to breaking even for a month around a year ago but had some processing issues that prevented any profit from then on."
Once SpadeClub decided to stop operation, all players on the network were offered the opportunity to transfer their accounts over to the new ZEN Entertainment Network. Upon logging in, each player was greeted with a message encouraging them to make the transfer and thanking them for their patronage to SpadeClub. If players choose to make the transfer, ZEN Entertainment Network promises to honor all of the time that customers have already paid for on SpadeClub – where promotions or status rewards are concerned. ZEN Entertainment Network also offered to continue to honor basic membership free play as a continuing offer.
With all of the new subscription online poker sites appearing on the Internet, it will be interesting to see where the considerable membership base of SpadeClub transfers their memberships. Although encouraged, no players from SpadeClub are obligated to make the transfer to ZEN Entertainment Network.