written by: Steve under News Comments: Comments Off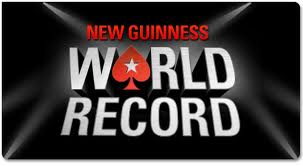 On December 12th the world's largest online poker room, PokerStars, will turn 10 years old, and the site has announced a number of promotions for the special celebration including two very special tournaments, both of which have their sights set on setting poker records.
The first tournament Pokerstars announced was a special running of the $215 Sunday Million on December 4th, where the site is guaranteeing a massive $10 million prize-pool, including $2 million to the winner alone. The sheer size of the prize-pool will seem like very lofty expectations to many, especially considering that US players have been barred from the site Since Black Friday –but as PokerStars has proven time-and-time again, they usually come through on their guarantees.
The second tournament PokerStars announced for their 10th Anniversary celebration will be an attempt to reset a record the site already hold: For the largest online poker tournament in the history of the game. In order to set the record, PokerStars will need to attract nearly 150,000 players willing to part with the $1 entry fee the tournament will boast. Players will find the $250k guarantee very enticing, with $50k guaranteed to the winner, considering it will likely be at least a $100k overlay.
The current record –held by PokerStars—was set in 2009, with a similar $1 tournament attracting over 149,000 entrants –the tournament was hastily thrown together when PokerStars caught wind of Full Tilt Poker's decision to challenge for the same record. It will be interesting to see if the added promotional time will be enough to overcome the lack of US players at the site.