written by: John under News Comments: Comments Off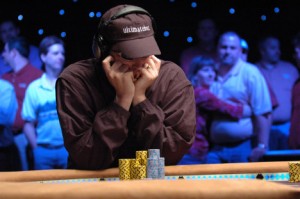 After a Tweet all but announcing he would be on the upcoming season of Dancing With the Stars, Phil Hellmuth has backed off a bit, but now a more cryptic message has been released by "The Poker Brat" which has rekindled the rumors that the 6'6" Hellmuth will be Fox-Trotting across the DWTS stage.
Prior to Hellmuth's Tweet, his agent posted a Tweet of his own saying: "If you think @Phil_Hellmuth is great TV, you're gonna love 2011,"

And then Hellmuth took it a step further with his own Tweet, in the typical Hellmuthian self-back-patting and name-dropping style, of: "Amazing 24 hours for me," "Multiple great things, but cannot Tweet about it yet… 1 cool thing: going to week long VIP parties at Super Bowl!"
From experience, anytime a person cannot mention the details yet, it has to do with TV or movies, so we can be fairly certain that what Hellmuth cannot Tweet about is that he will be on the next season of Dancing With the Stars!
Basically, by saying I can't comment on that, celebrities are saying, "Yes that is what is going on".
It will be interesting to see how the often awkward-moving Hellmuth performs on the show, and it should be pointed out that taller contestants have not fared overly well on previous seasons of the show.