written by: Steve under News Comments: Comments Off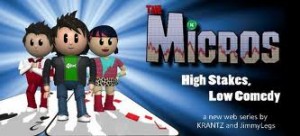 This past week the next installment in the animated poker series The Micros was unveiled –Episode 5 for those of you keeping count, as well as the unveiling of a brand new online store where fans of the show can purchase a number of different clothing products with their favorite images and tag lines from the series –in a Facebook post it was announced that mugs, mousepads and other non-wearable merchandise will be available soon.
In Episode 5: Countdown to Busto, we rejoin the Heads-Up for Rollz match between Max Rofls and Chase "swedetooth" Berger with Berger finally thinking through a poker scenario and coming to the right decision –although the outcome is something less than desirable! With his newfound knowledge and understanding of the game Chase decides that going broke is the best thing that could have happened, and is ready to rededicate himself to the micro-stakes tables online.
Of course, as they are boarding the plane they miss a news story running in the background, something about online poker sites in the United States and April 15, 2011 –so as not to give away what it is

In addition to the episode, The Micros also unveiled their online store with dozens of different shirts to choose from –my favorites being the photobucket-esque Image Deleted T-Shirt, and the "I'm With –EV" shirt that is a play on the "I'm With Stupid" shirt. Shirts and Hoodies are available in toddler and adult sizes, with both men's and women's styles available.