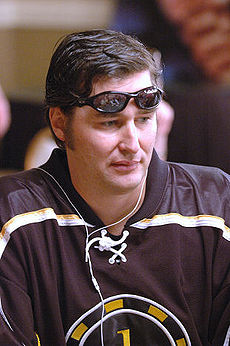 Phil Hellmuth is one of the easiest targets in all of poker. He always sets himself up for a barrage of criticism, even though it is clear that he can never take even the slightest jabs. Some players get under Hellmuth's skin so as to give themselves an advantage, while others do it solely for the comedic value.
Whichever the reason, it always provides for great entertainment. Phil Hellmuth is the king of self-promotion, and any audience is made fully aware of this whenever he is at the table. Hellmuth's obnoxious promotional techniques might be quite tacky, and they might also be annoying, but no one can deny that his methods have helped to make him as popular as he is.
#1-His Table Talk
Phil Hellmuth is one of the most talkative players at almost any table he sits at. Even Mike Matusow gives way to the never-ending Hellmuth jabber. Sometimes his talk is funny, if only because of how delusional it always is. Other times, Hellmuth's talk is just flat out ridiculous. When he critiques other players or points out what he would have done differently, it is common to see other players laugh at him. His approach to the game is often so ABC and old school, that any respect he used to have has now gone out the window. If Hellmuth learned to keep quiet at the table, he might gain some fans, but then again, he might lose some too.
#2-His Insults
Hellmuth's insults are hardly worth their weight in gold, yet he flings them around as if they were ever going to inflict any pain. Whether he is up against relative unknowns in a World Series event, or battling against top players in a televised high stakes cash game, Hellmuth is always locked and loaded with an arsenal of insults. Hellmuth can shoot down his opponents with classic lines like "Idiot from Northern Europe," or he can tell a player like Tom Dwan, "We'll see if you're even around in five years." In short, Hellmuth is always ready with insults; bad, unthreatening, insults.
#3-His Arrogance
Ok, he did win a handful of tournaments, but let's be honest, most of his results were from years ago when the fields were much smaller and much softer. Beyond this, there is no doubting that Hellmuth ran like god to earn his titles. He is constantly embarrassed in cash games, and his fellow players routinely mock him. So, tell us again, Phil, why are you the best?
#4-His Bad Play
It's one thing for a good player to announce his prowess (even though few do it), but it's entirely different when a sub-par player tells everyone how good he is. Hellmuth's reputation has taken repeated slams after his play has been much more widely televised. To savvy viewers, it has become clear that Hellmuth isn't as good as he says he is, and some old fans have hopped off the Poker Brat train.
Hellmuth put up some results, but his recent results have been lacking. He has made some deep runs, but they always manage to fall short. Hellmuth loves to whine about his bad luck, but won't ever tell anyone about how lucky he gets to even make a final table. Cash games show who is really a good poker player, and Hellmuth has proven that he is just not able to compete. His failures at the table have opened the doors for constant mockery from other poker pros who regularly find themselves in front of a camera. Until he can back up his talk, Hellmuth's words will mean less and less.