written by: Will under News Comments: Comments Off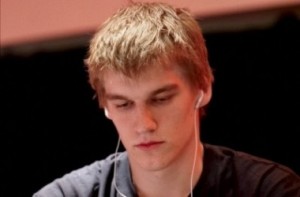 URnotIndanger2, known outside of the online poker world as Scott Palmer, started off the New Year with a massive cash purse when he raked in $342,000 two nights ago on Full Tilt Poker. The money was won over the course of 2,000+ hands of heads up NLHE at the $200 / $400 stake level. For every big winner in high stakes online poker there's a loser, and this time the unfortunate soul was Richard Lyndaker, or "Kpederson" in online poker circles.
The session began with a closely matched slugfest, and Kpederson actually took off to an early lead when his pocket jacks secured him a $91,000 pot from Palmer. Unfortunately for Kpederson, this was the end of his luck. Palmer, a resident of Maryland, fought back to win multiple pots around the $80,000 level.

Following the session, Lyndaker blogged about the losses and mentioned that we "probably won't see [him] playing those stakes for a bit." Lyndaker posted the text logs from several of the hands, which indicated that bad luck was certainly a factor in his losses. Lyndaker concluded the post by saying that he might do some traveling to clear his head. Although there's little doubt that Lyndaker will return to poker soon, we might not be seeing any high stakes NLHE matches between him and and Palmer for a while.
Similarly named online poker pro Urindanger, aka Di Dang, had quite the evening of his own when he won $256,000. This brings his total winnings for 2011 to a stunning $661,000, making him the year's biggest online poker winner thus far.
Some of the other winners from two evenings ago included Ziigmund (+$39k), phonderAA (+$40k), and harrington25 (+$95k). Aside from Kpederson, the night's biggest losers included rytoast (down $58k), DrugsOrMe (down $92k), KobeYard85 (down $101k), and cadillac1944 (down $182k).