written by: John under Card Games Comments: Comments Off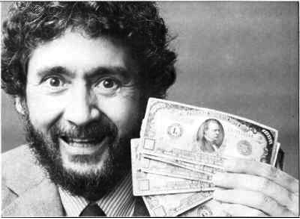 Ken Uston was not the first person to count cards or create a blackjack team, but he is the man who influenced and educated more blackjack players to win the most money.
Uston was born in New York with the name, Kenneth Senzo Usui, on January 12, 1935. He changed his name to Uston because he found it difficult to have a Japanese name as child during World War II. (Later in life he regretted this decision because he knew that it hurt his father, who he loved very much). After the war, the Usui family moved to New Haven, Connecticut. They found out early on that Uston had a high IQ and was also a child prodigy on piano. He loved music and excelled in all his school work. Uston attended Yale University and graduated at the age of 20, Phi Beta Kappa and Magna Cum Laude. He continued his graduate work at Harvard University where he earned an MBA in Finance.
Uston soon married and had three children. By the time he was in his early 30s, Uston was moving up in the corporate world, living in fashionable Marin County, California and Senior Vice President of the Pacific Coast Stock Exchange. Unfortunately, this left him feeling empty. He was at the top of the ladder but he hated the corporate world. He felt trapped.
One night at a party he met Al Francesco and was introduced to blackjack card counting. He began to study blackjack, and soon he felt confident to try his hand in Las Vegas. Uston found a new and exciting life, and unfortunately, his family was not part of that.
Al Francesco had created the first ever 'big player' type blackjack card counting team, and he was looking for skilled card counters to help him out. Though they did not end up playing together for very long, this knowledge would change Uston's life forever.
As a vice president of the Pacific Stock Exchange in San Francisco, Uston had the credentials to fool the casinos into thinking he was a man with a lot of money. And Uston was obviously intelligent and ambitious and knew how to play the part of a millionaire who could throw money around just for fun. Francesco had trained Uston to count cards and later to act as a big player.
Uston soon learned that there are two crucial positions in a big player team. The first component being the "spotters," who are positioned at numerous tables around the casino. There job is to keep track of the count and signal to the 'big player' when the count is high and there is a player advantage. The 'big player' then joins the table and places big bets. When the count drops again, the spotter signals once more, and the 'big player' then joins the table and places big bets. When the count drops again, the spotter signals once more, and the big player leaves the table.
Using this strategy, a team of card counters, the spotters themselves, never drastically change their bet sizes, and the big player is always betting big, while randomly switching between tables. When carried out correctly, there is no noticeable betting variance. The only way for a casino to detect such a team is to detect their signals. Blackjack rules were looser in the 1970′s, and the bosses less knowledgeable about card counters. During a session at the Fremont Casino, Uston once signaled the counter to leave the table and spread to seven hands of $500. Forty-five minutes later, he cashed out $27,600 in winnings. The team would eventually win over $500,000 in Las Vegas.
Uston quit his job at the exchange and the team played on, pounding several casinos in Las Vegas. Just when it all seemed too easy, Uston ran into trouble at the Sands, a casino they had beaten for almost $200,000. Uston was met at the cage by the casino's shift boss, who read him the casino's "Trespass Act."  He was told to leave the premises or be arrested. It was his first blackjack bust, and he was also barred at the other casinos owned by the Hughes Corporation. Uston went home and hired a lawyer, and soon the San Francisco Chronicle ran a front-page story entitled, "Man Who Beat Vegas Sues for $24 Million." The lawsuits never amounted to much, but they did cost Uston a lot of money. He continued to play but had to get creative by use of disguises and fake IDs.
In January of 1977, Uston received a call from Keith Taft. Taft introduced him to his microcomputer, "George."  It was the size of a pack of cigarettes and it processed information through four buttons, using binary code. These four buttons where placed in a pair of shoes and were operated by the big toes (one button above and one below on each foot). If you told the computer what cards had been played, it would transmit a short or long vibration, telling the player the exact play for each hand. The system was not without flaws, the battery pack would sometimes overheat, but all in all it provided the team some much needed winnings. However, on a trip to Harrah's, several team members were arrested and the equipment was confiscated. After that the team dispersed.
USTON WRITES HIS FIRST BOOK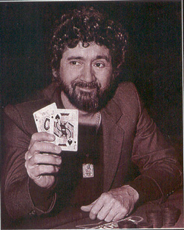 In 1978, Uston wrote The Big Player and made more than a few professional blackjack players unhappy. The book was based on his experience working as a "big player" on Francesco's teams. After the secrets came out, the team was barred from playing in Las Vegas. Uston then went on to establish new teams. David Harman, then host of Good Morning America, contacted Uston about a story he was formulating and asked Uston if he would like to participate in it. A game was arranged at the Horseshoe Casino and the rules set by Benny Binion, the owner. In about five hours, Uston managed to win $10,400; the show turning out to be a success. David Harman asked Benny Binion if he thought Uston cheated, to which Benny replied, "Hell, no. It's a science. He used his brain, he deserves his win."
Uston passed away in 1987 at the age of 52 while living in Paris. And it is nice to note that he did reconcile with his children.