written by: Steve under News Comments: Comments Off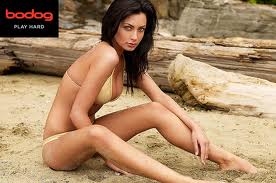 What sounds like some type of Russian mail-order bride request is actually the latest marketing campaign by Bodog Poker to find their next sponsored pro! The Bodog model is quite simple actually, appeal to casual male poker players with anonymous poker tables and young, sexy, female poker players.
Bodog already has three of the games most recognizable, and attractive, female poker players/personalities on their roster: Amanda Leatherman, Tatjana Pasalic, and long-time Bodog poker pro Evelyn Ng.
The job offer first became known when current Bodog Poker pro Tatjana Pasalic wrote a blog post at CalvinAyre.com detailing her first year with the company, and how Bodog was now looking for a fourth member for their team:
"I remember when my agent called and said we have sealed the deal – I was jumping up and down, calling my friends and family, and more importantly, thinking how I'm gonna treat myself… Ever since, I have had nothing but fun with Bodog… So, why am I reviewing my year now? No, I am not leaving – I am inviting a girl to join me. Yes, that's right; Bodog is looking for another girl to join our fabulous team. We need somebody who is fun, plays poker and lives outside of North America because I need some backup – Amanda and Evy have taken that part of the world!"
In an editor's note following the post by Tatjana Pasalic, Bodog explained precisely what they are looking for in applicants:
Bodog Poker is looking for a new Poker Pro to join Tatjana on Team Bodog but they aren't looking for just anyone. Like a good dating profile, they were pretty specific in the type of person they want to join the Bodog Poker Pro team.
Bodog is looking for an attractive female poker player who is a fresh face in the industry. Bodog is not looking to teach a playboy model how to play poker so poker experience is necessary.
One last thing, sorry this invitation is not open to Americans.
If you or someone you know wants to apply to be the newest member of team Bodog send an email to Pro@bodogbrand.com to find out all of the details.