written by: John under Poker Comments: Comments Off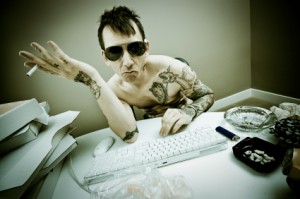 Let's get lay out the misconceptions first, and then we'll clear everyone up. Here are a few issues that many weary players are concerned with:
The first is collusion on the part of players. Webster's dictionary defines collusion as a secret agreement to commit fraud. This is a problem unique to poker since poker players play against each other and not the casino itself. Collusion occurs when two or more players seated at the same table work together as a team. Colluding players know what their team members' hands are (usually revealing their hands to each other via secret signal) and bet with the purpose of maximizing their "team" profits on any given hand.
This happens in brick and mortar card rooms, but it can be more serious in online poker because the cheaters are using tools like texting, IM, conference calls over the telephone, or possibly even sitting together playing in the same room. It's also more likely to happen online because there's less chance of getting caught. It can be a real drain on the industry, because wherever there's lots of money, there will be people willing to cheat to get their hands on some of the cash.
Another concern is trusting the websites themselves. Online poker websites are run from locations outside of the United States; Gibraltar, Costa Rica, and Indian territories in Canada are some of the locations. There have been many complaints from players who did not receive their cash outs back from some of the smaller online poker rooms and casinos that have come and gone over the years, some of those still even in business. Still another issue is that many users worry that hackers might break in to use or sell confidential information, while other players fear that online gambling sites are rigged and use computers to out-smart humans or prevent them from winning.
Relax, here comes the good news… And there is lots of it!!
First of all, the collusion problem is a constant fight that the online casinos are handling well. Every top tier online poker site in the industry employs the best in sophisticated software that identifies irregular betting patterns. These systems can identify and track players who exhibit cheating behaviors, and then ban those patrons from playing. If you were to ever suspect your opponents of colluding, you should contact customer support at the site you're playing at, and they will start an investigation, though this act shouldn't be used by bad sports. Ultimately, it boils down to the fact that site operators own recorded histories of all hands that have been played on said site by each and every player. Any hand suspicious of being shady can be reviewed and any suspected parties will be handled appropriately.
Trusting the gambling sites: The fact is that the large and heavily populated online poker sites such as PokerStars, FullTilt Poker, and Bodog Poker, are already earning MORE than $1 million per day. If online sites are caught willfully robbing people of their deposits and winnings, they would be out of business forever. Why would they want to risk losing everything they've built just to pull in a few more dollars? There is a lot of competition among sites all the time to attract new players or convert other sites' players, so it stands to reason that they wouldn't want any bad press. In this business, perhaps more so than others, news travels fast because it's web-based and the Internet is the fastest means of mass communication. The big, reputable sites want to keep their reputations nice and clean and stay out of the news for anything other than promotion updates and software upgrades. Unfortunately, though, there will always be accusations of site dishonesty because people don't like to lose, and anytime you have a sore loser, you will always hear cries of foul play. In the long run, it's the responsibility of the player to do his research.
Another note of heed: There's not much need for worry about hackers. With new technology and big improvements that enlist the utmost technology in encryption and security, the chance of someone hacking into one of these websites interface is not a likely. Furthermore, no one else can see your cards as you play except, for you. Online poker sites use identical technology that is similar to those systems used by banks and other financial institutions use to protect the transfer of data over the Internet. Someone hacking into your online poker account is about as equally likely as someone hacking into your banking account. In other words, if you participate in such activity as trading stocks online or even banking online, you should not be worried about playing poker online.
However, if you reside in the US, most major credit cards are making it harder and harder for you to use your credit card fund your online poker account, and it is next to impossible to withdraw funds back onto your credit card. To make it easier on yourself, enlist the services of a third-party payment service such as Click2Pay or ewalletXpress. Other popular online financial transfer institutions such as NETeller and moneybookers are not available to US players, but are perfectly viable means of transferring cash to your online gambling account most other places in the world. With these kinds of accounts, gamblers can transfer funds in various currencies to online casinos, and it's fast, safe and secure.
A few useful tips before you begin to play online poker for real money…
Use sites that offer free demonstrations. Sample their "play for free" games. This will help you get used to the way the site works. Also, a good site will offer 24/7 customer support that will be available via email and/or toll-free numbers. You should confirm that you can actually reach someone at the site within 24 hours of trying before betting any money with them.
After downloading the software, observe a few rounds. Are there enough tables available for the limits that you want to play? Are the games that you are interested in readily available? Is there enough traffic for you to have some healthy competition?
If you are interested in tournaments, check to see if the site offers freerolls. A freeroll tournament does not require a buy/in or a fee to enter; it's free! The prize money is provided by the poker room or a sponsor, or the prize is sometimes entry into another tournament. Often a freeroll tournament is limited to beginning or new players, so pay close attention to the requirements. Perhaps you'll find an online poker room that is offering free entry to a tournament for new players, so that you can try out that site for free. Participating in a freeroll is an excellent way to improve your skill at no cost to your bankroll. They are risk-free with the excitement of actually winning real money.
Research as much as possible before depositing funds. This can be done by logging on poker newsgroups that post information about the site you're interested in. Also, take a look at what payment options a poker room or casino offers, so that you can make sure they can accommodate you.
The bottom line is that online poker is a rather new form of entertainment, and it has seen its fair share of scandals already, but with each mistake and unpleasant indignity that the industry overcomes is a lesson learned. The good things about online poker outweigh the bad anyway. The fact that you can play online poker from the comfort of your home, with no travel necessary, in your pajamas, male or female, in the middle of the night if you wish, is golden. This is something that land-based casinos will never be able to compete with, no matter how much money they pump into their high-rise hotel casinos. Online poker is a new game; it's a different sport than live poker, and while the two go hand in hand nicely and coexist perfectly together, they are not the same game.
Online poker is exciting in its own right, and offers everyday people the opportunity to win serious money for doing something they are good at—playing poker. There are plenty of great online poker rooms out there, and most of the ones of ill-repute have been shut down or changed their ways, so that their sites now operate safely and fair. A little competition is good for everyone now and then; it makes your adrenalin pump and gets your blood circulating. So go on, do your research, be confident, and then go online and play poker—it's totally safe!