written by: Jennifer under Poker Comments: Comments Off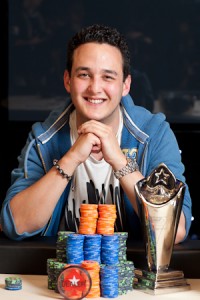 The last stop on the European Poker Tour's seventh season before the EPT Grand Final in Madrid, San Remo didn't disappoint as a solid tournament with a culturally diverse and strong field. The 987 players hailed from 57 nations, and the prize pool sat at €4,786,950 with €930K reserved for first place.
From two starting days, Day 2 brought the 460 survivors together, and that number was reduced to only 164 for the start of Day 3. It was during that third full day of action that the money bubble burst to allow the final 144 players to be paid, and some who did included Vanessa Selbst, Roberto Romanello, Victor Ramdin, Casey Kastle, and Ted Forrest. Day 5 whittled the field down to 24, with names like Richard Toth, Fabrice Soulier, and Ludovic Lacay showing up at the cashier's desk. And on Day 6, Joe Cada was among those eliminated on the way to the final table of eight players.
With that, the EPT San Remo final table was set to play out on May 3, with Rupert Elder as the chip leader with 8,005,000 and Francesco de Vivo holding only 1,090,000 as the shortest stack of the group. Max Heinzelmann made his second EPT final table in a row after finishing second in Berlin, and Xuan Liu was the only woman remaining in the field.
Action was aplenty at the final table, and the first elimination came when Max Lykov eliminated Roberto Spada. Liu took out Constantino Russo in seventh place, and moments later Elder sent Massimiliano Manigrasso home in sixth. Liu was back in action to eliminate Francesco De Vivo in fifth and Team PokerStars Pro Max Lykov in fourth. But it was Elder who eventually busted Liu, and he pushed into heads-up with 19 million versus the 10 million chips of Heinzelmann. The last hand saw Elder holding Ad-5c against the all-in Qd-5s of Heinzelmann, and the 3s-2c-7c-10h-Ks board left Heinzelmann with his second runner-up finish in a row on the EPT, while Rupert Elder (pictured above) won his first title and €930K.
1st place: Rupert Elder (€930,000)
2nd place: Max Heinzelmann (€600,000)
3rd place: Xuan Liu (€360,000)
4th place: Max Lykov (€290,000)
5th place: Francesco De Vivo (€220,000)
6th place: Massimiliano Manigrasso (€170,000)
7th place: Constantino Russo (€125,000)
8th place: Roberto Spada (€81,950)
Thanks to PokerStars Blog for the live updates and Neil Stoddart for the photo.