written by: Jennifer under Poker Comments: Comments Off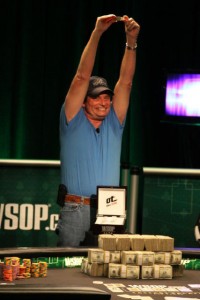 The World Series of Poker Circuit wrapped its annual nine-month series with a new event this year, a National Championship that offered the 100 qualifying players from the season the chance to play in a $1 million freeroll. The players earned their seats by winning a WSOP-C $1,500 Main Event in the 2010/2011 season, final tabling one of the four Regional Championships, earning top positions with overall ranking points, or winning the title of Best All-Around Player.
Those qualifiers gathered at Caesars Palace in Las Vegas on May 27 for the freeroll, with the exception of several who couldn't participate for personal reasons. Day 1 whittled the field down to 35 players after eight levels, and La Sengphet was the chip leader with 165K. Some of the players who fell on Day 2 included Kyle Cartwright, Dwyte Pilgrim, Curt Kohlberg, Tim West, Bernard Lee, and Allen Kessler. Huy Nguyen cashed in tenth place for $27,500 but bubbled the final table.
Day 3 brought the final nine together with Jonathan Poche in the top spot with 534K and Charles Moore holding up the short stack with 65,500. Matt Lawrence was the first to go, courtesy of James Anderson, and Poche took out Adam Hui in eighth place. Next, Moore eliminated Drazen Ilich, but it was hours later that Moore was ousted at the hands of Anderson. Sam Barnhart finally eliminated Poche in fifth, and awhile after the dinner break, Anderson took out Sengphet in fourth and Josh Evans in third. Anderson went into heads-up with a lead over Barnhart, but the latter doubled through to take a significant lead. Finally, Anderson moved all-in with Ad-10d against the Ks-Qc of Barnhart, but the Kc-Jh-7d-6c-7h board gave the win to Barnhart.
1st place: Sam Barnhart ($300,000)
2nd place: James Anderson ($200,000)
3rd place: Josh Evans ($135,000)
4th place: La Sengphet ($100,000)
5th place: Jonathan Poche ($75,000)
6th place: Charles Moore ($55,000)
7th place: Drazen Ilich ($42,500)
8th place: Adam Hui ($35,000)
9th place: Matt Lawrence ($30,000)
Thanks to the World Series of Poker website for updates.