written by: Jennifer under Poker Comments: Comments Off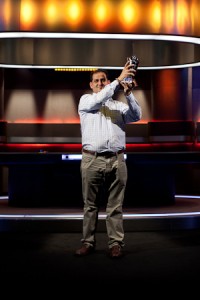 With the seventh season of the European Poker Tour at its last stop of the spring, the Casino Gran Madrid played host to the poker action as the EPT Grand Final got underway in early May. In fact, the €10K Main Event started on May 7, and after two starting days, registration showed 686 players and a €6,860,000 prize pool.
Day 2 brought all of the 309 remaining players together but thinned that number quite significantly. By the end of the night, the money bubble had burst, courtesy of Damien Rony, and the last 104 players were guaranteed a minimum of €15K for their efforts. Play then ended with Ole-Kristian Nergard, chip leader from Day 1B, again in the lead, this time with 726K chips.
Day 3 saw many players cash out, including Dan Heimiller, Pierre Neuville, Xuan Liu, Ivan Demidov, McLean Karr, Allen Bari, Leo Fernandez, Ben Wilinofsky, Ted Forrest, William Reynolds, and Eugene Katchalov. Only 24 players remained with Eugene Yanayt in the lead (2,374,000 chips), followed by Torsten Brinkmann with 1,959,000. Day 4 took it down to the final table, with players like Victor Ramdin and Dag Palovic exiting in the process. When the night was done, only 8 remained.
The final table commenced on May 12 with Ivan Freitez in the chip lead with 5,995,000 chips, Team PokerStars Pros Alex Gomes and Juan Maceiras in the mix, and Andrew Li on the short stack of 1.21 million.
Action started with Eugene Yanayt eliminating Li in eighth and Gomes in seventh. But it was Yanayt who was ousted by Frietez in sixth, and Torsten Brinkmann stepped up to send Maceiras home in fifth. Freitez was back in charge and sent Andrey Danilyuk home in fourth, followed by Tamas Lendvai in third. Freitez entered heads-up play with 16 million chips, and Brinkmann trailed with only 4.5 million. The latter caught no breaks in the tough battle, finally shoving with a solid Ad-Kc. Frietez called with Td-9d, but hit the flop of 5h-2s-9s. The 6d and 8c finished the board and the match, leaving Brinkmann out in second. Freitez of Venezuela, on the day of his six-year wedding anniversary, became the EPT Grand Final champion with €1.5 million and the trophy.
1st place: Ivan Freitez (€1,500,000)
2nd place: Torsten Brinkmann (€900,000)
3rd place: Tamas Lendvai (€550,000)
4th place: Andrey Danilyuk (€400,000)
5th place: Juan Maceiras (€315,000)
6th place: Eugene Yanayt (€250,000)
7th place: Alex Gomes (€185,000)
8th place: Andrew Li (€130,000)
Thanks to PokerStars Blog for the live updates and credit to Neil Stoddart for the photo.