written by: Jennifer under Poker Comments: Comments Off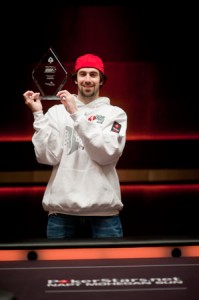 The PokerStars.net North American Poker Tour has made the bounty shootout format a popular one at each of its stops, not only because of the television deal with ESPN but players truly enjoy the challenge. The basic format is set up for sit-n-go tournaments – eight in this case – and the winner of each table goes to the final table. Additionally, each player holds a bounty chip, and that chip (along with $2,000) goes to the player who eliminates him or her. The person with the most bounties at the end wins a seat to the next NAPT Bounty Shootout event and $20K cash.
The $10K buy-in event brought 78 players into action for two flights of play, and the winners of each table were as follows:
Flight A: Michael Pesek, Jimmie Guinther, Eugene Katchalov, Scott Blackman
Flight B: Jonathan Jaffe, Jason Mercier, Micah Raskin, Taylor von Kriegenbergh, Joe Sweeney
Each player won $36K or $40K for making the final table, and Day 2 of action brought them together for more excitement. Notably, Jason Mercier was looking to replicate Vanessa Selbst's great feat of winning back-to-back NAPT Mohegan Sun events, and the returning Bounty Shootout champ made it to the final table again in 2011 in the hopes of doing just that.
With bounties increased to $10K each, players were also gunning for the $142,600 first place prize money.
Action began with everyone holding 50K chips, it took some time to find the first elimination, but Katchalov eventually busted Sweeney, and Jaffe took out Raskin. Blackman was the next to go when Pesek scooped a three-way pot and that bounty, and then Pesek took out Guinther, only to do the same to von Kriegenbergh a bit later. Mercier eliminated Jaffe, and Katchalov busted Pesek. That left a heads-up battle between Mercier (269,600 chips) and Katchalov (180,400 chips), but not before a dinner break. It didn't take long upon their return to decide the match. After a flop of 9c-8c-7s, Katchalov bet, Mercier check-raised all-in, and Katchalov called all-in with 8s-7h. Mercier showed 9s-10d and caught nothing on the 3s turn but got the best two pair on the 10h river. Katchalov took second place and $66K in total.
Jason Mercier won the NAPT Bounty Shootout for the second year in a row. For this year's event, he captured the $142,600 prize, and added to his $40K from the first round win and a total of $44K in bounties, along with a $20K bonus for winning the most bounties, he walked away with $246,600 for the win.
Information courtesy of PokerStars blog and photo credit to © Joe Giron.